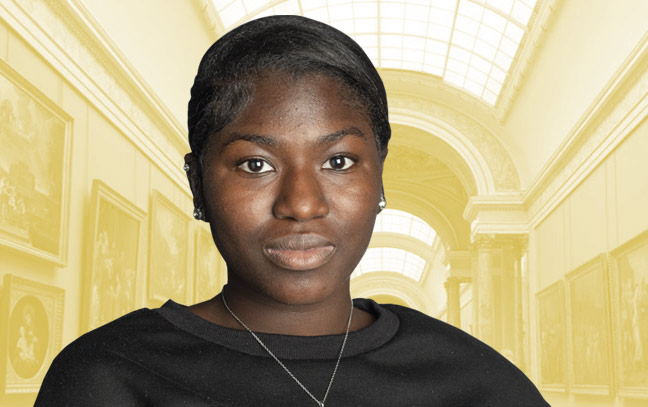 Learn to Handle Bones, Stoneware, Documents, Art
Learn how to work with bones, stoneware, documents, or fine art all in one certificate. The Museum Studies Certificate introduces students to the broad range of work found in museum settings.
You'll prepare for museum careers by directly engaging in a museum-based internship and through multi-disciplinary coursework in a wide variety of museum types and practices. The certificate also prepares you for graduate work in museum studies.
In this program, you'll learn display and presentation practices, cataloging techniques, and the basics of artifact and artwork conservation.
Imagine Your Future
Alumni from IUP have gone on to work in museum systems as notable as the Smithsonian in Washington, DC, the American Museum of Natural History in New York City, New York, and the Museum of Modern Art in New York City, New York.
The certificate program neatly fits alongside any major, and prepares students for work or further education in museum studies.
Students interested in art history, anthropology, and history often find meaningful employment in museums.
From the US Bureau of Labor Statistics
Median pay for curators, museum technicians, and conservators was
in 2020.
Forcasted job growth of
from 2020-2030.
Classes and Requirements
Our dynamic, interdisciplinary array of courses are aimed at preparing future museum directors and curators in methods and techniques common across many types of museum settings.
You'll learn techniques for working with bones, stoneware, documents, and fine art, preparing you for a variety of career opportunities. Students are engaged in hands-on work at our own University Museum or at other notable sites around the country.
If you're enrolled in our pre-law track, you'll select courses that help get you ready for law school and a career as a criminal lawyer or judge, including:
Business
Economics
English
History
Philosophy
Political science
Full Academic Catalog Listing
The course catalog is the official reference for all our degree and course offerings. Check it out for a full listing of the classes available and requirements for this degree.