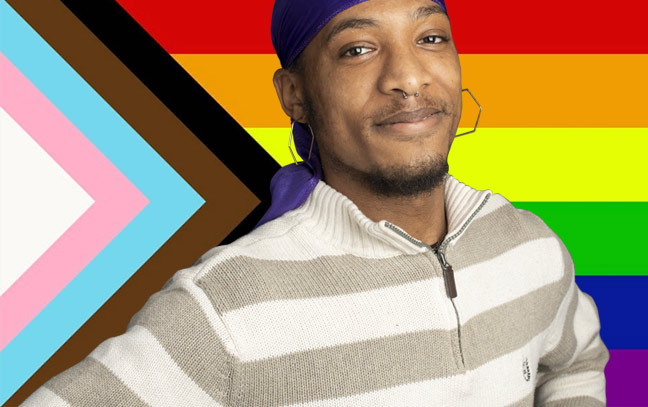 Examine Diversity in Sexual and Gender Identities
The LGBTQ Studies Minor is an interdisciplinary program that leads students in critically examining diversity in sexual and gender identities. Housed in the College of Arts and Humanities, this minor provides a comprehensive and interdisciplinary examination of the lives, experiences, identities, and representations of lesbian, gay, bisexual, transgender, and queer individuals. It explores the cultural, social, historical, and political understandings of sexuality that have shaped identities in modern times. It also analyzes contemporary issues related to LGBTQ individuals and communities.
This minor can supplement any major at the university. It provides valuable preparation for careers in all fields, including business, criminal justice, education, health care, human services, and the military. This program increases students' interdisciplinary knowledge about the LGBTQ community and encourages them to be active in social transformation. Students learn about the diversity of LGBTQ communities, the history and current conditions of sexual identity formation, and the innumerable ways LGBTQ individuals have contributed to our society, in spite of being marginalized.
Imagine Your Future
In a diverse world, the LGBTQ Studies Minor prepares you for life and professional practice. Twenty million Americans, almost 6 percent, identify as LGBTQ, up from 3.5 percent a decade ago, according to a Gallup poll. Students who minor in LGBTQ studies can create and foster culturally responsive communities wherever they go. This is something all employers value. No matter what IUP major or what career you pursue, learning LGBTQ+ history, theories, and concepts can enhance your education.
How LGBTQ Studies Minor Applies to Other Majors, Fields
Education
There are all kinds of families. Through the LGBTQ Studies Minor, you'll learn about creating safe and welcoming schools for a diverse range of children and families. You'll also learn to address bullying issues.
Business
In our global economy, employers value the ability to work with and mentor people of all backgrounds and identities. Your preparation through this minor demonstrates that you're knowledgeable about social justice and equity issues.
STEM
STEM (science, technology, engineering, and math) fields are becoming more diverse and require us to move beyond laboratory skills and abilities. Completing this interdisciplinary minor gives you a critical understanding of how the LGBTQ community has been constructed through scientific discourse.
A minor in LGBTQ studies is a perfect supplement to any major. Be prepared to live and work in a diverse world.
Classes and Requirements
Students must complete 18 credits to earn a minor in LGBTQ studies. The program is interdisciplinary, and students are encouraged to take courses that reflect their own interests and career goals.
If you're enrolled in our pre-law track, you'll select courses that help get you ready for law school and a career as a criminal lawyer or judge, including:
Business
Economics
English
History
Philosophy
Political science
Full Academic Catalog Listing
The course catalog is the official reference for all our degree and course offerings. Check it out for a full listing of the classes available and requirements for this degree.
Mindful Advising
All students in this program receive individual attention and advising from highly engaged faculty. These faculty members are involved with students' academic development at every stage of the minor's trajectory.
Activating Politics
The LGBTQ Studies Minor inspires students to build on what they learn in their classrooms and to apply it in their personal and political lives. The goal is to help students develop tools they can use to mobilize queer perspectives, build knowledge, and apply all they've learned to analyze and engage with global, economic, political, historical, cultural, and social issues.
Pride Alliance
Participants in this minor may work with the campus group Pride Alliance. The goal of this student organization is to foster a safe and supportive academic and social environment, regardless of a person's sexual orientation or gender identity and expression.
Become Aware
Teaching and research in LGBTQ studies focus on the ways that gender and sexuality intersect with race, class, ethnicity, nation, ability, body size, and other differences and how that affects every aspect of culture and identity.
Learn about Your People
If you're a member of the LGBTQ community, this is an opportunity for you to learn about your community in an academic context and to engage in dialogue about the scholars and theorists who began LGBTQ studies. This subject is unique in that it focuses on LGBTQ+ knowledge, experiences, and liberation.