Hometown: Wilcox, Pa.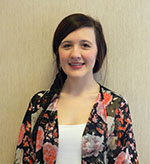 Year: Senior

Major: Journalism and Public Relations

Activities outside of the Writing Center: I am a member of PRSSA and French Club. I have held various positions as a campus leader and am currently interning with the IUP Digital Team. I have also written for various online publications. I also enjoy playing with my Guinea Pig.

Favorite quote about writing: "You might not write well every day, but you can always edit a bad page. You can't edit a blank page." —Jodi Picoult