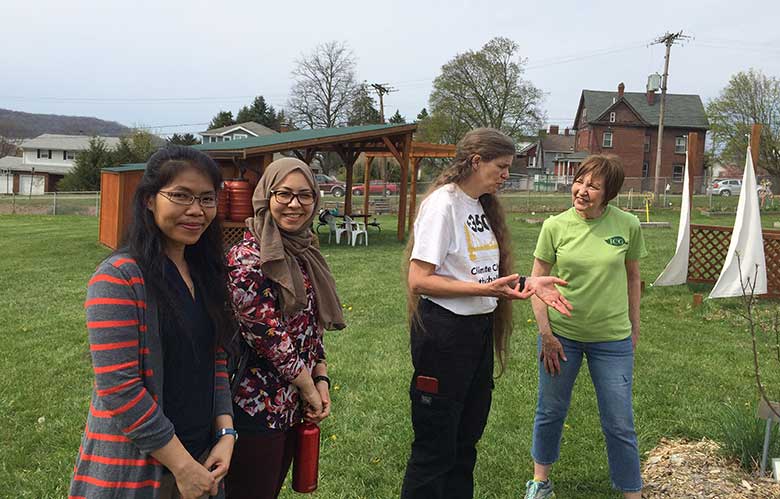 Maren Cooke, coordinator of the Pittsburgh Sustainability Salon, tours the Indiana Community Garden with Kay Snyder, ICG volunteer coordinator, and IUP students Jirayu Sinsiri and Sahar Al-Shoubaki.
Come join a dedicated group of committed students and faculty from across the university as together we work toward a more sustainable world!
"Never doubt that a small group of thoughtful, committed citizens can change the world. Indeed, it is the only thing that ever has."
—Margaret Mead
The Sustainability Studies minor is an interdisciplinary program that draws from expertise across the university. The program conceptualizes "sustainability" as an interdisciplinary approach to knowledge production and action that focuses on "the health and integrity of human societies and the natural world."
Sustainability is classically defined as a stool with three legs—the social, the economic, and the environmental. The purpose of this program is to address the challenges of sustainability by balancing the humanities, social sciences, and natural sciences.
The minor equips students to broaden their thinking about the origins of sustainability problems and possible solutions to include human institutions, ethics, and cultures as well as technologies and natural sciences.
In so doing, the minor aims to foster student agency with regard to research on sustainability, responsibility to both human and non-human life, and civic engagement with local sustainability projects.
Sustainability Studies Listserv
Please join the email listserv to receive and post information related to Sustainability Studies.
News
There are currently no posts to display. Please check again soon!