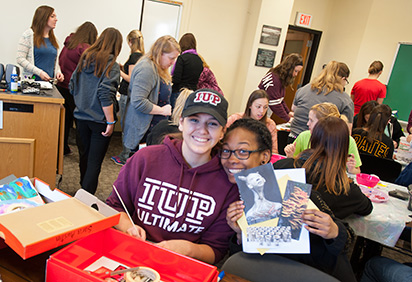 Our majors engage in various activities outside of the classroom, embellishing their credentials and enthusiasm for their field.
The purpose of NSSLHA is to encourage any IUP student's interest in the study of normal and disordered human communication behavior, to provide continuity to the dissemination of professional information, and to provide a vehicle for student representation in matters of professional concern.
The Audiology Student Association seeks to assist students who are interested in pursuing a career in audiology or who are interested people with hearing loss. The student group meets regularly and conducts programs of interest to the students.
This clinic provides diagnostic and treatment services for persons with speech, language, and hearing disabilities. Located on IUP's main campus, the clinic provides closely supervised practical experience for 125 graduate and undergraduate students, giving them the opportunity to complete their required hours of supervised clinical experience for their degrees in Speech-Language Pathology at IUP.
Best Buddies is a national organization that matches IUP members with individuals with disabilities in the community. Buddies develop friendships through e-mail correspondence and community activities.
The Council for Exceptional Children is an international professional organization that addresses needs of individuals with disabilities. The IUP student chapter participates in regional professional conferences and plans leisure and educational activities for individuals with disabilities.
The club's mission is to provide an inclusive setting where students of all levels of fluency in Sign Language (Including: American Sign Language, Pidgin Signed English, or Signing Exact English) can gather, express, and share their interest for Sign Language and Deaf culture.