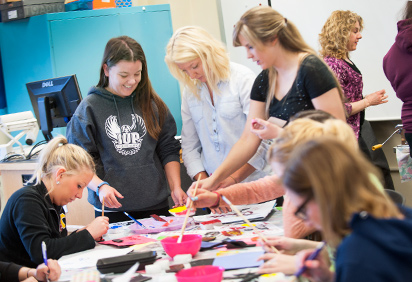 Interweave Courses and Field Experiences
The dual certification program is available to students currently enrolled in a secondary education certification program.
Upon completion of the Dual Certification–Special Education Grades 7-12 program, graduates will be certified to teach students with autism, emotional/behavior disorders, developmental disabilities, health impairments, intellectual disabilities, learning disabilities, multiple disabilities, orthopedic impairments, and traumatic brain injury.
Be Well Prepared for Classroom and Pull-Out Settings
Graduates will be prepared to work with a wide range of students in general education settings and to teach in specialized pull-out settings.
Requirements for the dual certification program include academic coursework, field experiences, and the PECT (Pennsylvania Educator Certification Tests) exam. You can blend courses and field experience with supplemental with summer coursework if desired.
Student Teaching Arranged to Give You Experience
Arrangements for student teaching will be made through collaboration with the student teaching coordinators in your major, those in the Communication Disorders, Special Education, and Disability Services Department, and staff in the Teacher Education Office.