Pre-Pharmacy, Natural Science, BS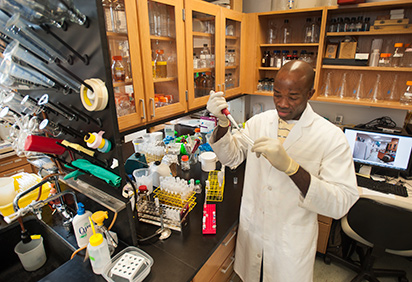 Since Ancient Times, People Have Sought to Cure Illnesses, Heal Injuries, and Manage Pain with Medicines
Today, they turn to pharmacists for the medicines they need. Pharmacists must be very precise and knowledgeable. As a natural science pre-pharmacy major at Indiana University of Pennsylvania, you'll benefit from an accelerated, three-year program.
In the Pre-Pharmacy track, you'll receive an excellent educational foundation for pharmacy school. Through special arrangements IUP has made, you can transfer credits from your first year at Shenandoah University School of Pharmacy in Winchester, Va., or Lake Erie College of Osteopathic Medicine School of Pharmacy in Erie, Pa. to IUP to satisfy your senior-year graduation requirements.
At IUP, you'll take a block of classes in biology, chemistry, and physics to prepare you for the challenges of pursuing the Doctor of Pharmacy degree. You'll also take classes in the humanities and social sciences. If you prefer to finish your bachelor's degree in four years, there are other options and majors at IUP you may want to consider.