Actuarial Mathematics, Mathematics, BS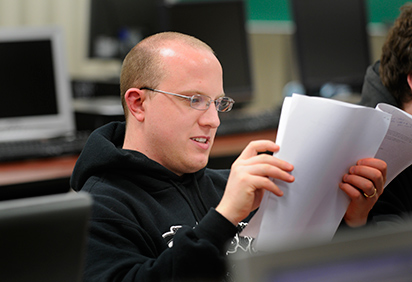 Prep for Your Career with the Actuarial Science and Statistics Degree
Students in the actuarial science and statistics program take additional course work in finance and economics, preparing them to complete the first two professional actuarial exams and to pursue employment in the areas of insurance and investment.
Finance and Economics Offer New Perspectives
You'll gain a thorough background in mathematics and take advantage of coursework in finance and economics to give you the well-rounded preparation you need for your actuarial exams. Some of the classes you will take include: Probability and Statistics for Natural Sciences, Differential Equations, Introduction to Mathematical Proofs, Mathematical Statistics II, Introduction to Financial Mathematics, Topics in Applied Computational Mathematics, Time Series Analysis.
Because of the high academic standards of our program, you must receive a B or higher grade in course work that carries Validation by Educational Experience (VEE) from the Society of Actuaries (SOA) (required for SOA credential).
Courses for Actuarial Science and Statistics, BS
Liberal Studies: As outlined in the Liberal Studies Section (46-47 credits)
Mathematics: MATH 125: Calculus I for Physics, Chemistry, Mathematics
Social Science: ECON 121: Principles of Macroeconomics
Liberal Studies Electives:No courses with MATH prefix, intermediate foreign language and ECON 122: Principles of Microeconomics are required.
Required Courses
MATH 111: First-Year Seminar (1 credit)
MATH 126: Calculus II for Physics, Chemistry, Mathematics (3 credits)
MATH 171: Introduction to Linear Algebra (3 credits)
MATH 216: Probability and Statistics for Natural Sciences (3 credits)
MATH 225: Calculus III for Physics, Chemistry, Mathematics (3 credits)
MATH 271: Introduction to Mathematical Proofs I (3 credits)
MATH 272: Introduction to Mathematical Proofs II (3 credits)
MATH 341: Differential Equations (3 credits)
MATH 363: Mathematical Statistics I (3 credits)
MATH 364: Mathematical Statistics II (3 credits)
MATH 416: Time Series Analysis (3 credits)
MATH 448: Introduction to Financial Mathematics (3 credits)
MATH 450: Topics in Applied Computational Mathematics (3 credits)
Controlled Electives
One Course from the following:
MATH 371: Linear Algebra (3 credits)
MATH 421: Advanced Calculus I (3 credits)
MATH 423: Complex Variables (3 credits)
One Course from the following:
MATH 445: Deterministic Models in Operations Research (3 credits)
MATH 446: Probabilistic Models in Operations Research (3 credits)
One Course from the following:
MATH 480: Seminar in Mathematics (3 credits)
MATH 493: Internship in Mathematics (3-12 credits)
Computer Science
COSC 110: Problem Solving and Structured Programming (3 credits)
COSC 343 or MATH 343: Introduction to Numerical Methods (3 credits)
Other Requirements
ECON 356: Introduction to Econometrics (3 credits)
FIN 320: Corporate Finance (3 credits)
(FIN 320 requires ACCT 201: Accounting Principles I and FIN 310: Fundamentals of Finance)
Foreign language intermediate level
Should pass SOA Exam P or PM
Free Electives (18-19 credits)