Languages and Systems, Computer Science, BS
Gain a Thorough Understanding for Highly Technical Careers
Prepare for graduate studies or for very technical positions working with operating systems, compilers, integrated development environments, and other system software.
Students are required to take a course in which they put to practical use what they have learned.
This may be accomplished using team projects in a single three-credit course, but we encourage students to consider taking a six- to eight-month paid internship to get the true flavor of applying their computing knowledge to industry.
Students are also required to take a minor in mathematics and take multiple senior-level computer science courses.
The Language and Systems track is accredited by the Computing Accreditation Commission of ABET.
Student Outcomes
A graduate of this track will be able to:
Analyze a complex computing problem and apply principles of computing and other relevant disciplines to identify solutions.

Design, implement, and evaluate a computing-based solution to meet a given set of computing requirements in the context of languages, systems, and/or tools used in the field of computer science.

Communicate effectively in a variety of professional contexts

Recognize professional responsibilities and make informed judgments in computing practice based on legal and ethical principles.

Function effectively as a member or leader of a team engaged in activities appropriate to languages, systems, and/or tools used in the field of computer science.

Apply computer science theory, mathematical concepts, and software development fundamentals to produce computing-based solutions.
Program Educational Objectives
The educational objectives of our program ensure that the graduates are fundamentally solid, practical, dependable, collaborative, and professional. Specifically, three to five years after graduation, the successful graduates will:
Possess quantitative and analytical skills to assess and apply theories of computer science to technical problems, and to research and analyze alternatives.

Possess verbal skills to interact with customers, colleagues, and managers, and possess written communication skills to describe ideas, document processes, and results. Have the ability to explain complexity. Have the ability to convey a clear understanding of what others find to be ambiguous.

Possess the ability to think logically and the capacity to understand technical problems with computing systems and design alternative solutions.

Possess an attention to detail—the ability to thoroughly think through ideas and problems, then implement and test total solutions.

Possess an ability to understand and vision beyond the immediate problem.

Possess an ability to understand how others have researched and analyzed computing systems, and then identify new alternatives to fulfill the desired function.

Possess an ability to anticipate effect and outcomes.

Maintain professional/scientific work ethic, appearance, and demonstration of personal responsibility.

Possess an ability to collaborate as a team member and team leader to affect technical solutions for computing systems, providing improved function and outcomes.
Enrollment and Graduation Statistics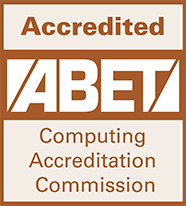 The Languages and Systems track currently has eight students enrolled in the program. In 2022, two students completing the program received their BS degree in computer science in the Languages and Systems Track.
Computer Science Languages and Systems Track Graduation Checklist