LGBTQ Studies is an interdisciplinary program housed in the College of Arts and Humanities that provides students the opportunity to critically examine diversity in sexual and gender identities.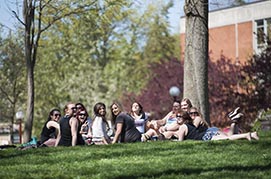 IUP currently offers an 18-credit minor in LGBTQ Studies.
The minor is designed to supplement all majors in the university and provides valuable preparation for careers in all fields, including business, criminal justice, education, health care, human services, and the military.
For more information about the minor, email Abigail Adams at aadams@iup.edu.