Recreation and Leisure Studies, Health and Physical Education, BSEd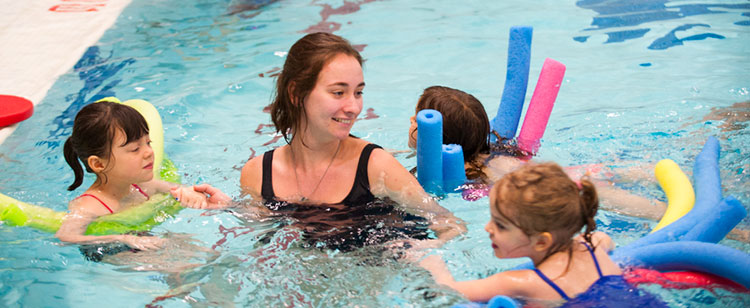 Be the Recreation Leader in Your Community
This program provides students with competencies to plan, implement, and assess recreation and sports programs in a variety of settings, including adapted sport programs, youth leagues, city parks and recreation departments, adventure travel and tourism, and commercial recreation facilities.
Students can focus on several emphasis areas including aquatics, special populations, coaching, and dance. This program provides graduates with the prerequisite knowledge necessary to sit for the National Recreation and Parks Association Certified Parks and Recreational Professional (CPRP) examination.
Graduates interested in qualifying for the CPRP exam must also obtain no less than one year of full-time experience in the field. This track does not lead to K-12 teacher certification.
Requirements for the Recreation and Leisure Studies track include the university's Liberal Studies requirements, the departmental core courses, and the Recreation and Leisure Studies required courses. Students must also maintain a cumulative GPA of 2.7 and a "C" or better in all of the required core courses within this track.
Recreation and Leisure Studies Curriculum
For descriptions of individual courses, please see the Undergraduate Catalog.
Liberal Studies
As outlined in Liberal Studies section with the following specifications: Total credits: 44
English Composition: 6 cr, ENGL 101, ENGL 202
Mathematics : 6 cr, MATH 101, MATH 217
Humanities: 9 cr, HIST 196, 197, or 198; ENGL 121, 210, or FNLG 121; PHIL 101, 120, 221, 222, 223, RLST 100, 110, 250 or 290
Fine Arts (choose one): 3 cr, ARHI 101, MUHI 101, THTR 101, THTR 102
Natural Science: 8 cr, BIOL 104-106, CHEM 101-102
Social Science: 9 cr, PSYC 101, SOC 151, Global and Multicultural Awareness
Health and Wellness: 3 cr, KHSS 143, FDNT 143, or NURS 143
Liberal Studies Elective : 3 cr, Fulfilled by MATH 217
Major
| | | | |
| --- | --- | --- | --- |
| CORE REQUIREMENTS | 22 cr. | | |
| KHSS 135 Careers in Kinesiology, Health, and Sport | 1 cr. | | |
| KHSS 175 Prevention and Care | 2 cr. | | |
| KHSS 209 Motor Behavior | 3 cr. | | |
| KHSS 221 Human Structure and Function | 3 cr. | | |
| KHSS 261 Water Safety Instruction | 1 cr. | | |
| KHSS 341 Evaluations in HPE | 3 cr. | | |
| KHSS 343 Physiology of Exercise | 3 cr. | | |
| KHSS 441 Psychosocial Implications | 3 cr. | | |
| KHSS 442 Senior Seminar | 3 cr. | | |
| | | | |
| PROFESSIONAL REQUIREMENTS | 27 cr. | | |
| EDSP 102 Educational Psychology | 3 cr. | | |
| HOSP 115 Intro to Tourism | 3 cr. | | |
| KHSS 213 Recreation Sports and Lifetime Activities | 3 cr. | | |
| KHSS 216 Instruction of Fundamental Movement Skills | 3 cr. | | |
| KHSS 218 Instruction of Tactical Skills and Fitness Concepts | 3 cr. | | |
| KHSS 318 Preprofessional Experience I | 3 cr. | | |
| KHSS 320 Man Facilities and Events in Sports | 3 cr. | | |
| KHSS 370 Adapted Health and Phys. Ed. | 3 cr. | | |
| KHSS 493 Internship | 3 cr. | | |
| | | | |
| CONTROLLED ELECTIVES (CHOOSE 3 COURSES) | 9 cr. | | |
| DANC 150 Fundamentals of Dance | 3 cr. | | |
| DANC 353 Dance Curriculum and Instruction | 3 cr. | | |
| HOSP 343 Fund-Raising for Special Events | 3 cr. | | |
| KHSS 280 Aquatic Facilities Management | 3 cr. | | |
| KHSS 292 Intro to Sport Management | 3 cr. | | |
| KHSS 333 Psychology of Coaching | 3 cr. | | |
| KHSS 335 Athletic Coaching | 3 cr. | | |
| KHSS 337 Coaching Disability Sport | 3 cr. | | |
| KHSS 413 Physical Activity and Aging | 3 cr. | | |
| KHSS 445 Business Practices in Sport | 3 cr. | | |
| | | | |
| ADDITIONAL CREDITS | | | |
| Free Electives | 18 cr. | | |
| Total Credits | 120 cr. | | |