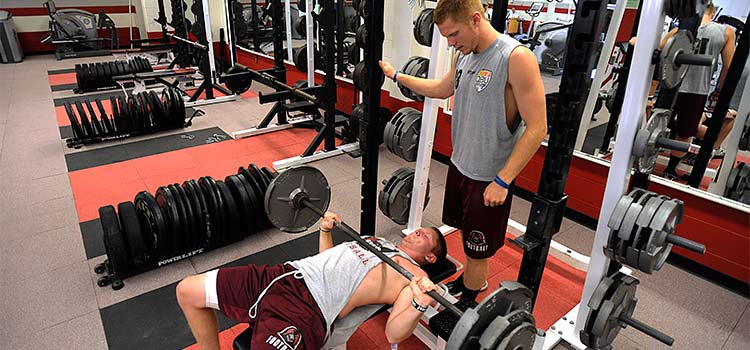 Your First Step Toward Becoming an Athletic Trainer
ThePhysical Education and Sport, Pre-Athletic Training track prepares students for admission into a master's degree program in athletic training. The Athletic Training Strategic Alliance recently established the master's degree as the professional degree in athletic training.
IUP Pre-Athletic Training Prepares You for Grad School
Your classes will give you the scientific foundation you'll need to be accepted into master's degree programs in athletic training.
3+2 Program Can Save You Time, Money
You can begin working on your master's degree while finishing your bachelor's degree by taking advantage of the 3+2 option offered through our Athletic Training Master's Degree program, which begins in 2020. This option saves you time and reduces the cost of your total education through the master's degree level.
Students must meet eligibility requirements to apply for early admission into the Master of Science in Athletic Training program (for more information, see the Graduate Catalog). During your bachelor's degree studies, you will work closely with an advisor to consider the likelihood of early admission into graduate school and will be advised of other options that are available. Admittance into the Master of Science in Athletic Training program is also possible for those with a bachelor's degree without early admission.
Program Goals and Objectives
Upon completion of this track, students will:
Develop a foundation of knowledge required for admittance into a professional program in athletic training as well as for other healthcare professions
Identify the major biological principles pertinent to athletic training
Study the coursework in the natural sciences necessary for success in a professional athletic training program
Demonstrate academic proficiency needed to successfully gain admittance into a professional athletic training program
Pre-Athletic Training Curriculum
Liberal Studies: As outlined in the Liberal Studies section of the catalog with these specifications: 44cr
Mathematics: MATH 217
Natural Science: BIOL 104 and 106
Social Science: PSYC 101
Liberal Studies Elective: 3cr, FDNT 145
Major:
Core Requirements: 21
KHSS 143 Careers in Kinesiology, Health and Sports Science 1cr
KHSS 175 Prevention and Care of Injuries to the Physically Active 2cr
KHSS 209 Motor Behavior 3cr
KHSS 221 Human Structure and Function 3cr
KHSS 341 Evaluations in Health and Physical Education 3cr
KHSS 343 Physiology of Exercise 3cr
KHSS 344 Adapted Physical Activity and Sport 3cr
KHSS 441 Psychosocial Implications for Health and Physical Education 3cr
Pre-Athletic Training Requirements: 28
BIOL 150 Human Anatomy 4cr
BIOL 200 Medical Terminology 2cr
BIOL 240 Human Physiology 4cr
CHEM 101 College Chemistry I 4cr
KHSS 286 Strength/Personal Training Practicum 3cr
KHSS 315 Biomechanics 3cr
KHSS 347 Physiology of Exercise Laboratory 1cr
KHSS 375 Physiological Basis of Strength Training 3cr
PHYS 111 Physics I Lecture or
or 151 Medical Physics Lecture 3cr
PHYS 121 Physics I Lab or
or 161 Medical Physics Lab 1cr
Free Electives: 27
(24 credits will be used toward the MS in Athletic Training if eligible for early admission)
Total Degree Requirements: 120
For More Information About Athletic Training
See these resources for information related to professional standards, job opportunities, salary surveys, and certification.