Community Health Education, Health and Physical Education, BSEd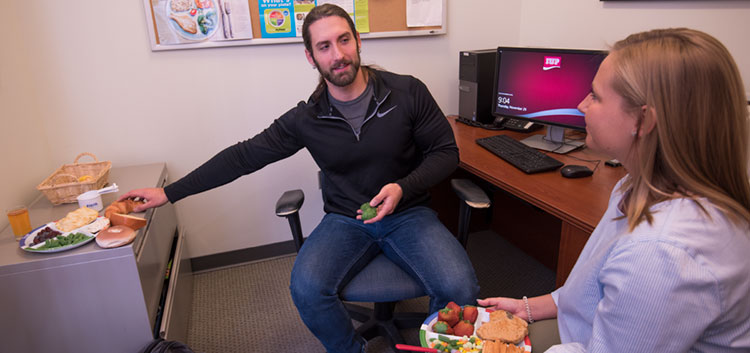 Help Keep Our Communities Healthy
This program of study focuses on health promotion and disease prevention through community educational services, and it prepares individuals to develop training and implement curriculum focused on better health and educational outcomes.
Graduates of this program can seek employment with health and education agencies involved in community-based training and prevention related to HIV/STI/AIDS, obesity, dating violence and bullying, communicable diseases, tobacco, drugs and alcohol, sexual health and/or pregnancy prevention. Students can specialize in several emphasis areas, including Communications, Aging populations, Nutrition, Physical Activity, Human Service, Child Studies, and Women's and Gender Studies.
Specialized Curriculum to Help You Get Ahead
Among the courses you'll take in this track: School and Community Health, Contemporary Health Issues, Child Health Concepts, and Health Education and Promotion at the Workplace.
Graduates will be eligible to sit for the NCHEC's Certified Health Education Specialist (CHES) exam. This track does not lead to K-12 teacher certification. Requirements for the Community Health Education track include the university's Liberal Studies requirements, the departmental core courses, and the Community Health Education required courses. Students must also maintain a cumulative GPA of 2.7 and a "C" or better in all of the required core courses within this track.
What Health Educators Do
Health educators teach people about the availability of healthcare services. Health educators teach people about behaviors that promote wellness. They develop and implement strategies to improve the health of individuals and communities.
Job Duties
Health educators typically do the following:
Assess the needs of the people and communities they serve
Develop programs and events to teach people about health topics
Teach people how to cope with or manage existing health conditions
Evaluate the effectiveness of programs and educational materials
Help people find health services or information
Provide training programs for other health professionals or community health workers
Supervise staff who implement health education programs
Collect and analyze data to learn about their audience and improve programs and services
Advocate for improved health resources and policies that promote health
Provide outreach and discuss health care concerns with community members
Educate people about the importance and availability of healthcare services, such as cancer screenings
Provide informal counseling and social support
Conduct outreach programs
Ensure that people have access to the healthcare services they need
Advocate for individual and community needs
Work Environment
The duties of health educators, who are sometimes called health education specialists, vary with their work settings. Most work in health care facilities, colleges, public health departments, nonprofits, and private businesses.
In health care facilities , health educators may work one-on-one with patients and their families. They teach patients about their diagnoses and about any necessary treatments or procedures. They may be called patient navigators because they help consumers find out about their health insurance options and direct people to outside resources, such as support groups and home health agencies. They lead hospital efforts in community health improvement. Health educators in health care facilities also help organize health screenings, such as blood pressure checks, and health classes on topics such as installing a car seat correctly. They also create programs to train medical staff to interact better with patients. For example, they may teach doctors how to explain complicated procedures to patients in simple language.
In colleges , health educators create programs and materials on topics that affect young adults, such as smoking and alcohol use. They may train students to be peer educators and supervise the students' delivery of health information in person or through social media. Health educators also advocate for campus wide policies to promote health.
In public health departments , health educators administer public health campaigns on topics such as emergency preparedness, immunizations, proper nutrition or stress management. They develop materials to be used by other public health officials. During emergencies, they may provide safety information to the public and the media. Some health educators work with other professionals to create public policies that support healthy behaviors and environments. They may also oversee grants and grant-funded programs to improve the health of the public. Some participate in statewide and local committees dealing with topics such as aging.
In nonprofits (including community health organizations), health educators create programs and materials about health issues for the community that their organization serves. They help organizations obtain funding and other resources. Many nonprofits focus on a particular disease or audience, so health educators in these organizations limit programs to that specific topic or audience. For example, a health educator may design a program to teach people with diabetes how to better manage their condition or a program for teen mothers on how to care for their newborns. In addition, health educators may educate policymakers about ways to improve public health and work on securing grant funding for programs to promote health and disease awareness.
In private businesses , health educators identify common health problems among employees and create programs to improve health. They work with management to develop incentives for employees to adopt healthy behaviors, such as losing weight or controlling cholesterol. Health educators recommend changes to the workplace, such as creating smoke-free areas, to improve employee health.
Theindustries that employed the most health educators in 2012 were as follows:
| | |
| --- | --- |
| Government | 23% |
| Hospitals; state, local, and private | 21 |
| Ambulatory health care services | 17 |
| Religious, grant making, civic, professional, and similar organizations | 11 |
| Social assistance | 11 |
Job Outlook
Employment of health educators is projected to grow 21 percent from 2012 to 2022, faster than the average for all occupations. Growth will be driven by efforts to improve health outcomes and to reduce healthcare costs by teaching people about healthy habits and behaviors and utilization of available health care services. Source: U.S. Bureau of Labor Statistics, Employment Projections program.
Community Health Education Curriculum
For descriptions of individual courses, please see the Undergraduate Catalog.
Liberal Studies
As outlined in Liberal Studies section with the following specifications: Total credits: 44
English Composition: 6 cr, ENGL 101, ENGL 202
Mathematics : 6 cr, MATH 101, MATH 217
Humanities: 9 cr, HIST 196, 197, or 198; ENGL 121, 210, or FNLG 121; PHIL 101, 120, 221, 222, 223, RLST 100, 110, 250 or 290
Fine Arts (choose one): 3 cr, ARHI 101, MUHI 101, THTR 101, THTR 102
Natural Science: 8 cr, BIOL 104-106, CHEM 101-102
Social Science: 9 cr, PSYC 101, SOC 151, Global and Multicultural Awareness
Health and Wellness: 3 cr, KHSS 143, FDNT 143, or NURS 143
Liberal Studies Elective : 3 cr, Fulfilled by MATH 217
Major
| | |
| --- | --- |
| CORE REQUIREMENTS | 18 cr. |
| KHSS 135 Careers in Kinesiology, Health, and Sport | 1 cr. |
| KHSS 175 Prevention and Care | 2 cr. |
| KHSS 209 Motor Behavior | 3 cr. |
| KHSS 256 Applied Human Structure and Conditioning | 3 cr. |
| KHSS 341 Evaluations in HPE | 3 cr. |
| KHSS 441 Psychosocial Implications | 3 cr. |
| KHSS 442 Senior Seminar | 3 cr. |
| | |
| PROFESSIONAL REQUIREMENTS | 30 cr. |
| EDSP 102 Educational Psychology | 3 cr. |
| HOSP 343 Fund-Raising for Special Events | 3 cr. |
| KHSS 316 Instruction of Child Health Concepts | 3 cr. |
| KHSS 318 Preprofessional Experience | 3 cr. |
| KHSS 325 School and Community Health | 3 cr. |
| KHSS 370 Adapted Health and Phys. Ed. | 3 cr. |
| KHSS 417 Contemporary Health Issues | 3 cr. |
| KHSS 426 Health Science Instruction | 3 cr. |
| KHSS 493 Internship | 6 cr. |
| | |
| CONTROLLED ELECTIVES (choose 3 courses) | 9 cr. |
| COMM 101 Communications Media in American Society | 3 cr. |
| COMM 205 Making Presentations with Media | 3 cr. |
| COMM 230 Global Media and Communication | 3 cr. |
| FDNT 212 Nutrition | 3 cr. |
| FDNT 213 Life Cycle Nutrition | 3 cr. |
| FDNT 245 Sports Nutrition | 3 cr. |
| FDNT 402 Community Nutrition | 3 cr. |
| KHSS 285 Group/Individual Exercise Leadership | 3 cr. |
| KHSS 350 Health Aspects of Aging | 3 cr. |
| KHSS 413 Physical Activity and Aging | 3 cr. |
| KHSS 450 Curriculum and Programming in Sexuality Education | 3 cr. |
| PSYC 312 Adult Developing and Aging | 3 cr. |
| PSYC 330 Social Psychology | 3 cr. |
| PSYC 379 Psychology of Human Sexuality | 3 cr. |
| SOC 231 Contemporary Social Problems | 3 cr. |
| SOC 251 Sociology of Human Sexuality | 3 cr. |
| SOC 320 Sociological Theory | 3 cr. |
| SOC 333 Delinquency and Youth | 3 cr. |
| SOC 336 Sociology of the Family | 3 cr. |
| SOC 357 Sociology of Aging | 3 cr. |
| SOC 391 Foundations of Sociological Practice | 3 cr. |
| SOC 427 Social Perspectives on Intimate Partner Violence | 3 cr. |
| SOC 428 Child Abuse | 3 cr. |
| WMST 200 Intro to Women's Studies | 3 cr. |
| | |
| ADDITIONAL CREDITS | |
| Free Electives | 19 cr. |
| Total Credits | 120 cr. |