Cyber Security Minor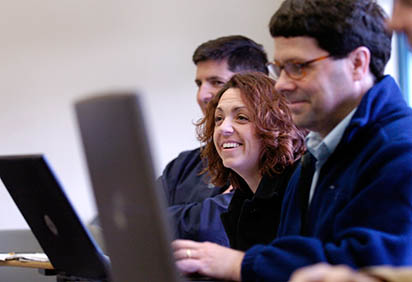 Go Deeper Into Cybersecurity and the Tech Side of Crime
Students may minor in cyber security through a collaborative program with the IUP Mathematical and Computer Sciences Department.
The Cyber Security program at Indiana University of Pennsylvania strives to develop students into leaders in the cyber security field.
The program provides opportunities for students to gain hands-on experience as they work on faculty research projects or community projects. It also provides "training the trainer" sessions through summer faculty workshops in cyber security and information assurance.
National Security Agency (NSA) Center for Academic Excellence
IUP is a National Security Agency Center for Academic Excellence in information assurance education. Partnerships with companies in Western Pennsylvania, West Virginia, Ohio, and surrounding areas further engage students in security research. The program actively promotes security awareness and arranges numerous continuing education opportunities in information assurance and cyber security for local companies.
The Institute for Cyber Security coordinates efforts to provide students with opportunities to be involved in collaborative research, presentations, and workshops in information assurance.
A second objective of the institute is to assist students in job placement and career planning. Because IUP is a Center of Academic Excellence in Information Assurance, students will have a number of unique opportunities for employment and internships. Such efforts will be coordinated from the institute.
Contact:
Dr. Jennifer Gossett
Department of Criminology and Criminal Justice
Wilson Hall, Room 200
411 North Walk
Indiana, PA 15705
724-357-5608
jgossett@iup.edu