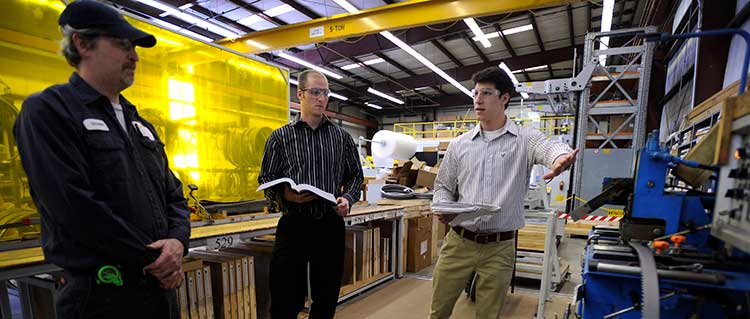 An IUP intern on the job. Opportunities for environmental engineers are growing and expected to keep growing.
Opportunity's Knocking for Environmental Engineers
Between 2014 and 2024, the US Department of Labor predicts that environmental engineering jobs will grow 12 percent nationally. This growth will be especially pronounced in the states that hire the most environmental engineers: California, Pennsylvania, New York, Florida, and Texas. Your career path can take you almost anywhere you want to go.
Environmental Engineering Careers
Who hires environmental engineers? All sorts of organizations:
Architectural and engineering companies
Management, scientific, and technical consulting companies
Remediation and waste management companies
Manufacturers
Environmental laboratories
Local, state, and federal government agencies
Oil and gas extraction industries
According to the Pennsylvania Center for Workforce Information and Analysis, industries hiring environmental engineers will grow more than 20% from 2014 to 2024. That's good news for those with the right degree for this field.
"Environmental engineering is a booming career. Environmental engineers help to protect public health with clean drinking water, treatment of sewage, remediation of past dump sites, and breathable air, to name just a few."

Nancy Kralik
Director of HSE Engineering and Sustainability, FluorCorporation
IUP Alumna and Environmental Engineering Advisory Board Member