Pre-Medical, Biology, BS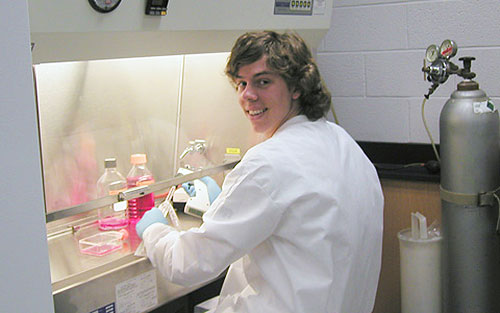 Get a Strong Start for Your Career as a Physician
How many jobs give you the chance to leave the office knowing you brought healing to someone who was suffering, or helped a child recover from a serious illness?
IUP's Biology Department offers you the opportunities found at larger research institutions, as well as the kind of more personal learning community found at smaller colleges. The coursework satisfies the medical school admission requirements and will prepare you for the MCAT by the end of your junior year.
IUP has early acceptance agreements with Philadelphia College of Osteopathic Medicine (PCOM) and Lake Erie College of Osteopathic Medicine (LECOM). Both allow qualifying students to gain provisional acceptance into the medical college as long as they maintain a GPA of 3.5 or better in the pre-med curriculum. Known as "3+4" programs, they allow students to elect to enter medical school after three years at IUP. Students are awarded a Bachelor of Science degree in Biology from IUP upon successful completion of the first-year curriculum at LECOM or PCOM (along with fulfilling the undergraduate requirements at IUP).
IUP is a participating affiliate of the Physician Shortage Area Program, established by Jefferson Medical College of Thomas Jefferson University in Philadelphia, to encourage more physicians to practice medicine in rural areas of Pennsylvania that are severely underserved. Eligible students must be from a rural area or have spent a significant amount of time in a rural environment. For more information, visit the online home of the Physician Shortage Area Program.