Graphic Design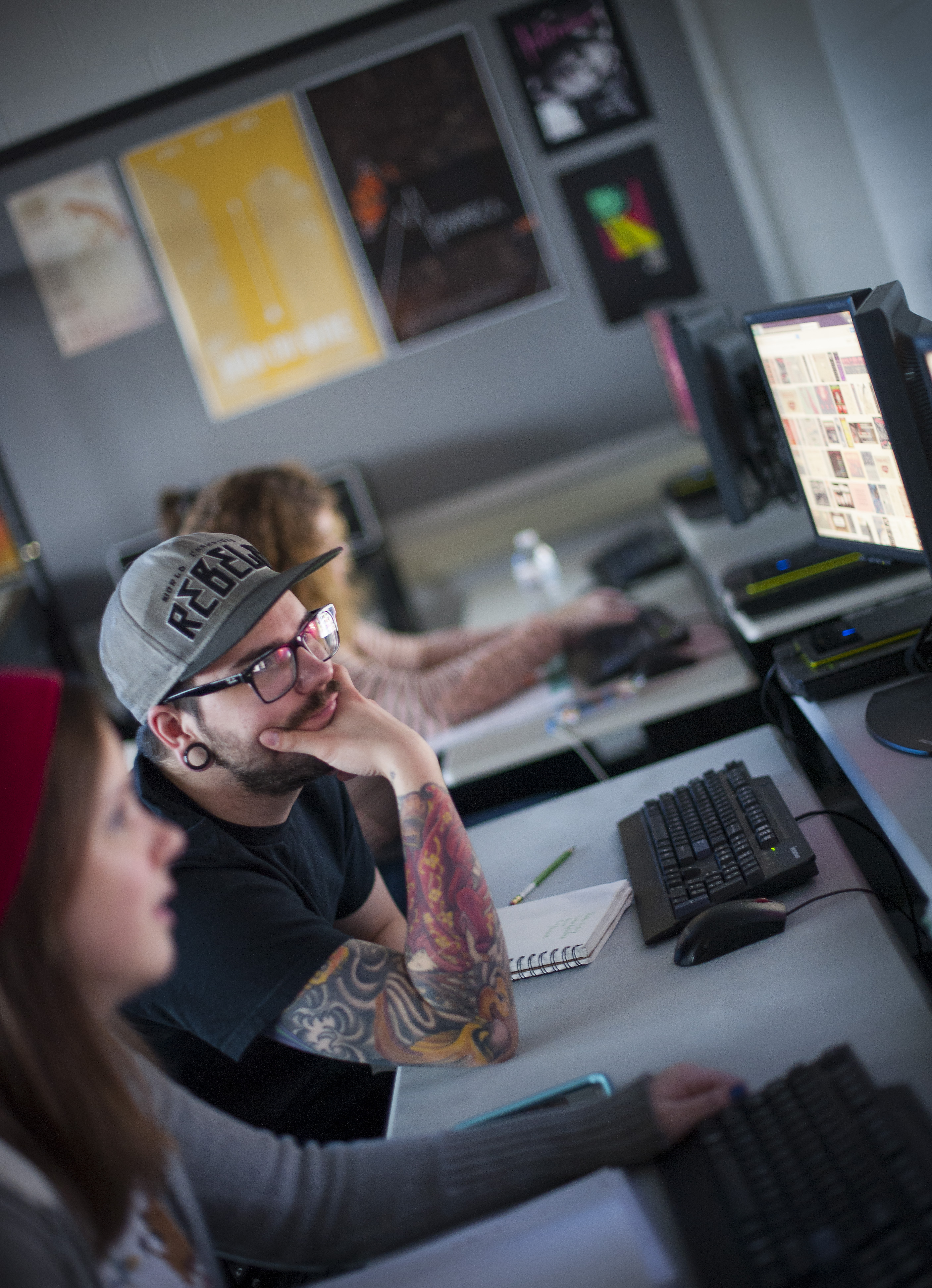 Students in the Graphic Design area develop original, high-quality solutions to design problems.
Have you been ever dreamed of getting paid to create artwork for books, movies, magazines, or video games? Have you ever dreamed of designing or coding your own website, or learning to 3D model and animate your own character design? Do you see yourself at the cutting edge of the commercial art industry? If so, then it's time to consider a career in the commercial arts!
What is Graphic Design?
Graphic design is art with a purpose. Art with a message. With the proliferation of websites, cost-effective commercial printing, apps, three-dimensional printing, and electronic publications, the field of graphic design is expanding exponentially with exciting opportunities and new fields of focus.
Making this kind of art isn't just about being excited and challenged. It is about making art at the cutting edge, relevant to the way we live as a society today.
Graphic design is modern art.
What Kinds of Opportunities Exist for a Graphic Designer?
Graphic designers are able to work in a considerably wide range of areas, from in-house positions that create material for a single company, to agency positions that create a variety of materials for a variety of companies. The specific options are extremely varied:
Web design
Layout design
Interaction design
User experience design
Branding and corporate identity
User interface design
Animation
Photography
Illustration
Three-dimensional modeling
Art and creative direction
Cover design
Publication design
Advertising
Packaging design
And many more (see What You Can Do with Your Degree for more information).
What Will I Learn From This Program?
While the graphic design courses in the Department of Art and Design teach the fundamentals of graphic design and its methodology, care is taken to ensure our students are equipped with the skills necessary to move beyond an entry-level position. Students are groomed to enter leadership roles: those at the forefront of the industry that require a true understanding of message and creativity.
Why Graphic Design at IUP?
Nationally accredited program
The graphic design area in the Department of Art and Design is part of a nationally accredited program, which means our curriculum, faculty, facilities, and student work meet or exceed the rigorous criteria of curriculum and depth of study set forth by the National Association of Schools of Art and Design (NASAD).
Proven track record
Current students and recent graduates find jobs quickly, with many having accepted graphic design positions and internships across the tri-state area, including Pittsburgh, Philadelphia, New York City, and Washington, DC.
In fact, more than one famous student has passed through the doors of the design lab in Sprowls Hall over the years:
John Ritter, esteemed illustrator famous for his artwork featured on the cover of Time Magazine, the New Yorker, Newsweek, Glamour, the New York Times, Apple, and Adobe.
Don Donoughe, founder of west coast design firm Maus Haus, Inc, whose clients include Disney, Sprint, Intel, and Stanford University, and was named to Inc. Magazine's "500 Fastest-Growing Companies" list twice
Chad Hurley, co-founder of YouTube and PayPal logo designer, also took graphic design courses while he was a student at IUP.
Professional faculty
The importance of learning from professionals can't be understated. The faculty in the graphic design program in the Department of Art and Design consist of professionals who have combined experience working for top-tier clients such as the United States Air Force on critical, classified special forces missions, British Airways, Ford, General Motors, editorial work for publications such as Rolling Stone, Chicago Magazine, and Playboy, and content creation for multimedia companies such as Capcom and Square Enix.
Facilities
The graphic design lab in the Department of Art and Design is a living, breathing space, whose ongoing evolution reflects the needs of its current students. State-of-the-art, dual-monitor workstations paired with direct-to-screen digital drawing tablets are present for every student, brand new DSLR cameras, an oversized scanner, an Epson R3000 6 color wifi printer, MakerBot three-dimensional printer, and a high-definition, live overhead projector for the instructor to easily communicate visual ideas make up the basics.
Community
A lively community awaits any student who is enrolled in the program, from a small, core group of students who are able to take classes together as they progress through the program, to an active student organization known as the Graphic Design Student Association. There are endless opportunities to network with other students and build your résumé with real-world professional clients looking for help from our design community.
The Future
Graphic design is the future. From web and interactive media to animation, illustration, and layout design, graphic design is a broad and diverse field ready to accept those who are talented and eager enough to take on the challenge. We're ready if you are.
Course Sequence
Courses in graphic design follow a numerical order, which can be deviated from, depending upon the needs of the student. The 400-level graphic design classes may be repeated for additional credit. Typically, when students repeat a 400-level course, they develop individualized plans of study that focus on a specific area of interest within graphic design.
ART 218 Beginning Graphic Design
ART 221 Principles of Illustration
ART 221 Typography
ART 355 Intermediate Graphic Design and Illustration
ART 356 Intermediate Layout and Composition for Digital and Traditional Media
ART 455 3D Modeling and Animation
ART 456 Advanced Web and Interactive Design
ART 465 Advanced Illustration