4+1 Roadmap for Success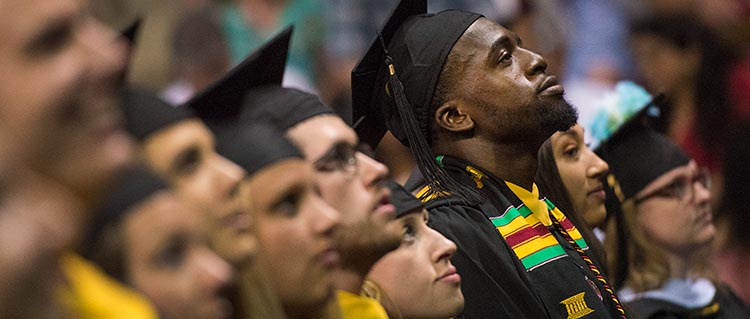 Congratulations on starting your 4+1 journey! Here are some important milestones for you to know about as you complete your degrees.
During your first year: Let your advisor know of your 4+1 acceptance and interest. Also, meet your master's program coordinator. They're listed in your graduate studies acceptance letter.

Throughout your time as an undergraduate student: Check your email for updates from graduate admissions to learn more about the program and meet other 4+1 students. You'll also want to make sure you're continuing to meet the minimum requirements for your master's program. Your advisor will help you.

When you're approaching your 60th credit: Submit your graduate application (free with code GFM) and your coursework form (we'll send it to you).

One semester before undergraduate graduation: Update graduate admissions on your graduation status. Once you receive your undergraduate degree, you'll become an official graduate student.

Fifth year: Take your remaining graduate courses full-time.

End of fifth year: Graduate with your master's degree!
You might have questions along the way
What if I change my major?
No worries, it happens. If you choose to change your major you won't be eligible for the 4+1 program, but you can consider early admission to another master's program.
What if I change my mind during my senior year?
That's okay. Your progress toward your undergraduate degree won't suffer. The graduate courses taken are specifically designed to apply toward both. No harm done.
At any time throughout the process, you can always consult your undergraduate advisor or the graduate coordinator for your master's program. We want you to succeed, so we'll help guide you.