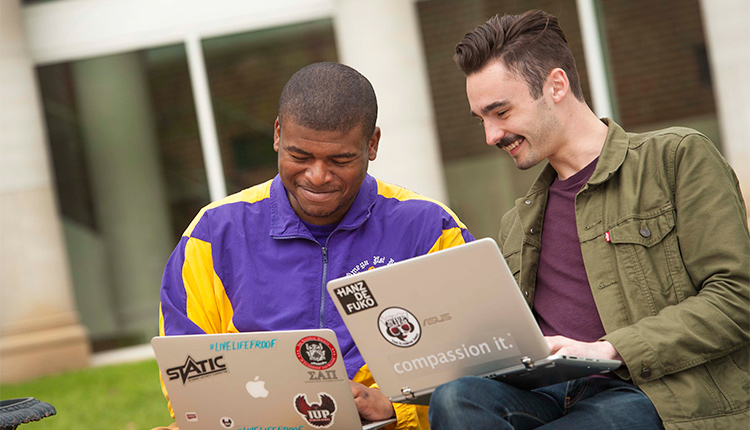 As an Honors College student, you always have access to our staff if you are not sure where to turn to solve a problem. On the other hand, we encourage you to seek out answers on your own whenever possible.
The Office of Student Billing receives grant, loan, and scholarship funds, applies these funds to student accounts, and issues student refunds for overpayment from financial aid. The office may be contacted at student-billing@iup.edu or by phone at 724-357-2207.
The Office of Student Billing also generates all student bills and processes any adjustments to the charges on the student account. It processes payments made on student accounts. Again, the office may be contacted at student-billing@iup.edu or 724-357-2207.
The Co-op Bookstore sells textbooks, art supplies, office supplies, software, computer accessories and IUP merchandise.
Living on campus? Close to campus? Come dine with us! No matter where you are, IUP Dining Services has a great location just for you.
The Financial Aid Office can provide information regarding the application for federal and state grants, student loans, and parent plus loans, as well as work study programs. The office may be contacted at financial-aid@iup.edu or by phone at 724-357-2218.
The Rhonda H. Luckey Center for Health and Well-Being offers a range of services that address the components of total well-being—physical, mental, and emotional—in one convenient location at the Suites on Maple. Phone: 724-357-9355
The mission of the Office of Housing, Residential Living, and Dining is to foster the development of a community in which the rights and responsibilities of each individual and group are clearly defined and respected; provide a residential program that supports the academic mission of the university; and provide a dining program for the university community that offers high-quality, nutritious, and reasonably priced options that meet individual tastes, respond to dietary needs, and provide opportunities to expand one's dining experience.
The Student Co-op is committed to providing physical and financial support for the organizations and amenities that make IUP special. The Hadley Union Building is home to the Co-op Store, the HUB Fitness Center, the HUB Computer Lounge, the HUBRock Caf 2, the Student Activity Committee (STATIC) and the Penn, the student newspaper of IUP. In addition to these groups, the Student Co-op financially supports over 100 IUP campus organizations, including IUP Athletics.
The Fitness Center is home to aerobics classes, cardio equipment, indoor golf, spinning classes, weightlifting equipment, and intramural teams for a variety of different sports.
The I-Card Office can help if you have problems with your I-Card.
Stay active while having fun and meeting new people by participating in one of IUP's many intramural programs.
The IT Support Center provides technology support to students, faculty, and support staff at Indiana University of Pennsylvania.
The Registrar's Office oversees student records, class scheduling, and policies as they pertain to the student academic experience.
The Office of Public Safety is open 24 hours a day, seven days a week.
The Office of Public Safety oversees the University Police and Campus Safety offices. The Public Safety Office is responsible for protecting public safety, enforcing student behavior and parking regulations, and investigating crimes that occur on the IUP campus.
People who wish to report a crime, who need information about parking, or who would like more information about the services provided can come to the office or telephone us at 724-357-2141.
A popular destination for IUP students, the Writing Center offers a variety of free services and resources to help students develop their writing skills as well as a quiet, comfortable environment to get creative juices flowing. No appointment necessary.