National Student Exchange
Have you dreamed about spending a semester or academic year in an exotic location? Would you like to get up every morning and experience the mountains of Montana, the deserts of New Mexico, or the beaches of Florida? If so, you should think about becoming involved with the National Student Exchange (NSE), a program at IUP for undergraduate exchange within the United States, Puerto Rico, Guam, the Virgin Islands, and Canada.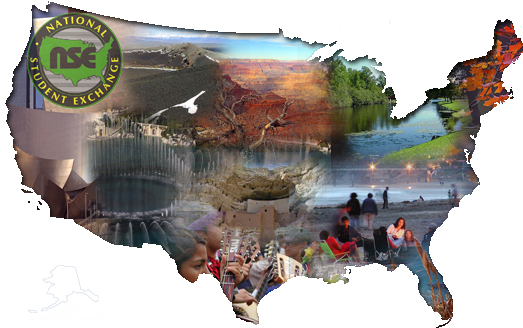 NSE Application Now Online! IUP students interested in the NSE program can fill out the preliminary application online prior to meeting with Jessica Mulvihill, the program coordinator.
NSE students study for a semester or full academic year at another NSE college/university. The experience allows students to continue their studies while living in a different geographical region and broadening their personal, educational, and cultural perspectives. Most IUP students who participate want to experience somewhere different from where they grew up, while others want to check out another university or region for future graduate school or employment.
For inquiries about the National Exchange Program, please contact study-away@iup.edu. Priority deadline for fall and/or spring occurs mid-February each year.
Jazmyn Mason was a sophomore in the IUP Kopchick College of Natural Sciences and Mathematics when she attended the University of Colorado at Colorado Springs for an academic year.
Being a part of the National Student Exchange was the best decision ever! I had the pleasure of attending the University of Colorado, Colorado Springs. It was all thanks to Jan Shellenbarger. She was with me every step of the way. I was in her office talking about the process, and how nervous I was to leave my home school all the time! She was so helpful, and comforting, I really can't imagine I would have applied for the program without her support. I'm glad Jan was always available to meet or by phone to answer any of my questions. I met so many awesome people, some of which are now life-long friends for sure! It was great to see a new school, but also a new state. The school offered so many outdoor activities, we even got money on our account FOR FREE, just for being in the NSE program for such activities. Leaving was the hardest part, but I will always be grateful for this unique opportunity.
Courtney Roszak came to IUP for fall 2015 when she was a junior journalism major from the University of Wisconsin-Eau Claire.
Being a part of National Student Exchange is a terrifying, yet exciting experience and journey. This fall semester I have had the privilege to attend Indiana University of Pennsylvania, and I can honestly say that this was the best choice of my college career. Throughout my semester at IUP I have been able to take new and exciting classes that are not offered at my school in Wisconsin. I have met numerous people who I will forever hold memories with and whom I know will be lifelong friends. Jan Shellenbarger has been a huge help in my semester on exchange, as a coordinator she has gone above and beyond making sure I am comfortable and happy here. Being in the NSE program been an amazing opportunity for me, and I know when December rolls around, leaving IUP is going to be difficult.
Remember to review the information below, including the Frequently Asked Questions and the National Student Exchange website, before printing the application. Once you have reviewed the material and know this is the program for you, please contact Jessica Mulvihill at study-away@iup.edu to schedule an appointment.
Frequently Asked Questions
(or "Almost everything you need to know about the National Student Exchange before filling out the application and submitting a registration fee!")
How many universities are involved?
Almost 200.
Where are they located?
All 50 United States, Puerto Rico, Guam, Virgin Islands, and Canada.
What is the registration fee? (Please note this fee is nonrefundable.)
The nonrefundable registration fee is $300. Payment is due when you submit your application, which can be completed at the Student Portal.
When is the registration fee due?
The fee is due when the application is finalized after meeting with NSE coordinator.
What is a "Plan A - Host Payment" university?
You would pay tuition, fees, housing, and meal plans to your host school.
What is a "Plan B - Home Payment" university?
You pay tuition and fees to IUP as you would normally do, and pay housing and meal plans to the host university.
What are your chances of placement?
Each university indicates your chances for Plan A & B:
Excellent: accepts nearly all (96-100%) qualified students
Very Good: accepts 76-95% of qualified applicants
Good: accepts 51-75% of qualified applicants
Limited: accepts fewer than 50% of qualified applicants
Are there any IUP requirements?
You must have at least a 2.5 GPA or higher and be in good standing with IUP (i.e., no financial obligations such as fines or holds on your account, no judicial proceedings.)
Do my credits transfer back to IUP?
Yes, your credits, if approved through Transfer Admissions, transfer back to IUP, but your GPA remains the same.
Application Information
If this sounds like the type of program you think you would enjoy, please contact study-away@iup.edu. For more information, please visit the National Student Exchange website.
Payment is due when you submit your application, which can be completed at the Student Portal.