About Distance Education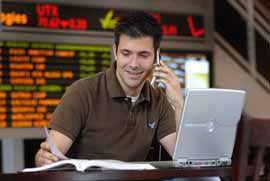 Distance Education at IUP consists of Web-based (online) undergraduate and graduate courses that enable you to participate in learning from any location with your computer and Internet access.

If you are unable to attend class on campus because of your work schedule, family responsibilities, travel time, or many other obstacles, Distance Education is for you. Freedom to engage in course activities any time of the day or night offers you flexibility in your schedule.

Students may communicate with their professors, classmates, and advisor and may actively participate in learning and research. Assigned readings are found on designated Web pages, the library's online journal articles, or textbooks, which are mailed to students.

Who Can Register

Distance Education courses are available to the following:

Adult part-time students
Full-time students
Transfer students
Students who take college courses to transfer to another institution
Those who want to experience a college course to see if they want to seek a degree
Individuals who would like to improve their competency in their current or future employment
Want to Register?

Access information for how to register.