Distance Education Admissions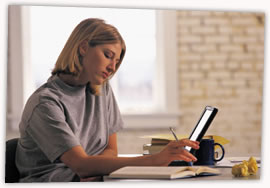 Indiana University of Pennsylvania offers online undergraduate and graduate-level courses that enable you to participate in the learning from any location with your computer and access to the Internet.

Distance education students use computers to communicate with professors, classmates, and advisors, and also actively participate in learning and research. You are free to engage in course activities at any time day or night, without interfering with work or family schedules. The courses are available to adult part-time students and on a limited basis, to traditional full-time students, and transfer students.

If you are a current IUP student, simply register for distance education courses along with other IUP courses through MyIUP.

If you have never attended IUP and would like to enroll in a degree program, you must submit an application for admission.

If you are a former student and did not attend IUP in the last year, you will need to complete an application for reenrollment.

If you are a student at another institution* or would like to enroll as a non-degree student on a limited basis, you can register to take individual courses through the Office of Admissions. Pay careful attention to any prerequisite courses associated with a course.

*Students who are currently enrolled at another Pennsylvania State System university may transfer the credits and grades for courses taken at IUP. Please review the Visiting Student Policy and complete a Visiting Student Form.

Should you have questions or need additional information, please contact us via email at visiting-student@iup.edu or call us at 724-357-2573.