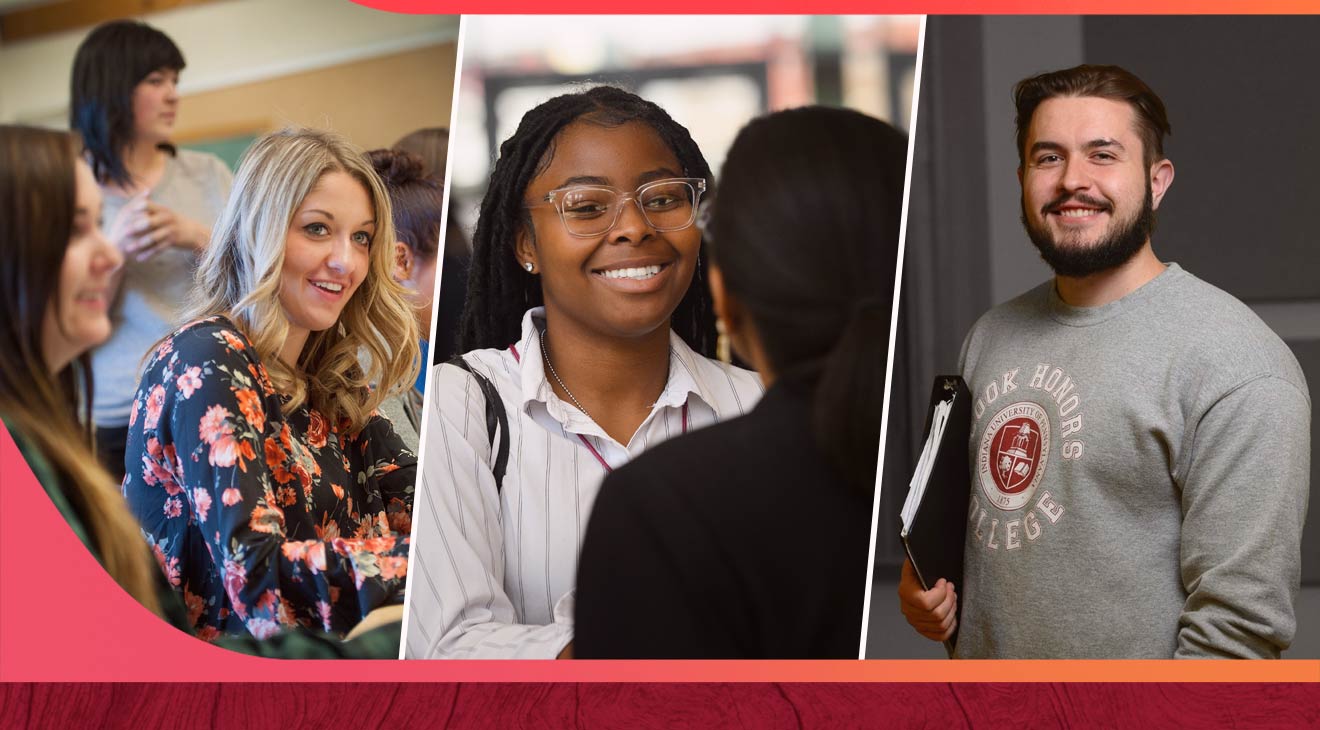 Extra Benefits for IUP Students:
Earn your master's or doctoral degree. With a graduate degree from IUP, you can enhance your career options, earning potential, and personal development.
Follow the steps below to chart your path and apply.
Step 1: Find Your Perfect Program Match
Grad school is all about finding the right program. We offer more than 60 certificates, master's, and doctoral programs. That means you're sure to find a degree that fits your needs.
Expand your expertise in your current major, or go in a different direction, like adding an MBA to increase career opportunities in business. Browse our graduate programs to find the perfect match for you.
Step 2: Gather Information and Get Ready to Apply
Once you've found a program that fits your needs, start your research on it. Look specifically at the following factors:
Career opportunities in this field of study

Part- and full-time options depending on your needs

Time required for an average week of study

Time required to earn your graduate degree

Specific application requirements for this program
You don't have to be a 4.0 student to attend graduate school. Though our programs are competitive, and our typical admitted student has a college GPA just above 3.0, we understand that life happens. That's why we take a holistic approach to reviewing your application.
Don't let a number stand in your way. If you're thinking about grad school, we can try to help you get there. Contact our office at graduate-admissions@iup.edu to discuss your options regarding our application requirements.
Step 3: Submit Your Application, Save Your App Fee
First, learn the general steps needed to apply for grad school at IUP. Based on these steps, create your IUP Admissions Profile and submit an application to the certificate, master's, or doctoral program of your choice.
Current IUP Students: You will not have to pay the $50 application fee typically required for a graduate application. Instead, simply enter the waiver code GFM at the end of your application form, when prompted for payment.
Step 4: Upload Supplemental Items—No Transcript Required!
After submitting your application, you will need a few extra items to complete it:
Current IUP Students and Alumni: You do not need to get a copy of your official IUP transcripts. Our admissions team will pull these on your behalf.
Step 5: Secure Your Funding
Paying for grad school will be one of your most important considerations in the application process. Two options can help you make it more affordable.
Learn about potential graduate assistantships for your program. Assistantships offer practical experience while also waiving part or all of your tuition, depending on your award.

Look for a scholarship for your field of interest. You can find a list of scholarships on our website, or use Sallie Mae's free scholarship search tool to get started.
If you're still unsure of your next move after graduation from IUP, consider how a graduate degree from IUP could maximize your career, earnings, and personal potential.
Additional Resources