IUP Leadership Society, 2014–5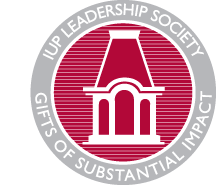 Members of the IUP Leadership Society set the pace for charitable giving and help to provide students with scholarships, research opportunities, and out-of-classroom experiences.
Leadership Society members have chosen to invest in the success of IUP at a higher level. As the leaders of philanthropic giving, they enable IUP students to act as ambassadors for IUP through their travels to competitions, conferences, and performances.

Leadership Society membership levels have been revised, beginning in 2015-16.
The levels listed below reflect 2014-15.

$10,000 or more: John Sutton Society
$5,000-$9,999: Willis Pratt Society
$2,500-$4,999: Trustees Council
$1,250-$2,499: President's Council
$500-$1,249: College Council
$250-$499: Hub Club (graduates of the last 10 years)
Leadership Society-level gifts may be made through any of our established giving methods. Questions about any aspect regarding philanthropic support of IUP should be addressed to the Development Office at 724-357-2324.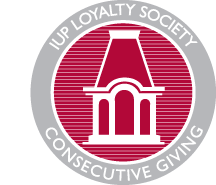 The IUP Loyalty Society recognizes in 2014-15 2,320 people whose annual gifts serve as the foundation for universitywide growth.
This special community of donors comprises those who have given to IUP for five or more consecutive years. Gifts of any amount to any area of the university qualify donors for membership. Involvement in the society is sustained as long as gifts are made to IUP every fiscal year (July 1 to June 30) without interruption.