Who Gave to IUP in 2014–15?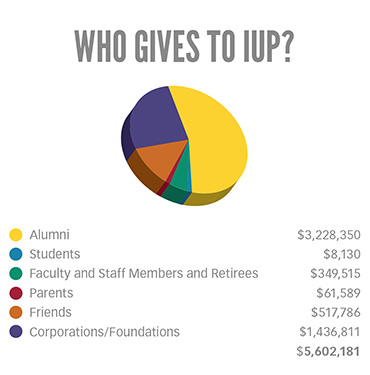 Philanthropic support to IUP comes from many people and organizations and in many forms.
As the chart shows, alumni, employees, corporate and foundation friends--even students--believe IUP is a worthy investment, and they support IUP's mission through annual gifts, large-gift endowments, estate planning, and more. On the pages listed in this section, you'll find those who have supported IUP with gifts of $500 or more ($250 from those who graduated in the last decade) or have invested in IUP on a long-term basis through estate planning.
Corporate and Foundation Friends
Please note: We so appreciate the generosity of our donors. Sometimes, we make mistakes. If you see an error on the lists, please accept our apology, and please report it by sending a message to iup-giving@iup.edu. We will correct the error immediately.