Dining on Campus During COVID-19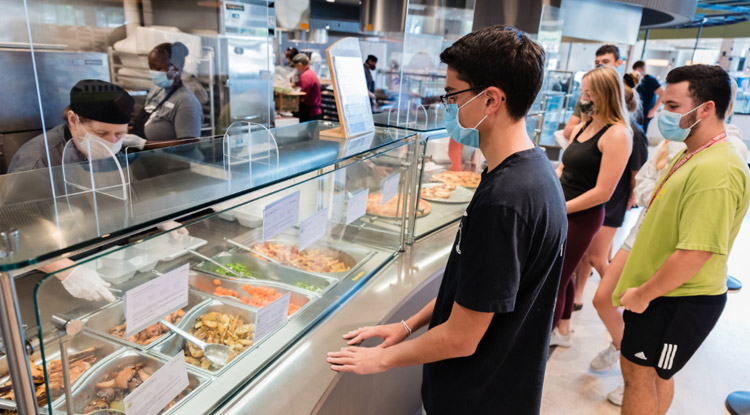 On this page, you will find important information about the dining program at IUP in light of the current COVID-19 pandemic.
Types of Service
To promote safety, IUP Dining Services will offer the following types of service this academic year:
Grubhub: This is mobile ordering to go. Please consider using this before other options. Instructions are on the Dining website. (Link to news post)
Hand & Go: Employees will handoff quick items for you to take with you.
Takeout: Traditional face-to-face order and go.
Dine In: Limited seating is available in our locations.
Note: Students in isolation or quarantine should visit the Health and Safety page for food service options.
North Dining
North Dining is adding a made-to-order deli to the salad bar Hand & Go area. In addition to the made-to-order options, students can also select a featured specialty sandwich each week. Many of the deli meats and even some cheeses are prepared in the in-house smoker.
The exhibition station next to the salad bar will also be changing. At lunch, a rotation of made-to-order rotation will include items such as omelets, pasta, sushi, guest chefs and smoothie bowls. Dinner will feature made to order pasta, walking tacos, Sweet Treats and stir fry.
North Dining also features new menu items including expanded offerings at True Balance and throughout the dining hall.
Special Events at North Dining
Recurring events on the calendar for North Dining include:
Wing Night every other Monday, starting January 25.
Sweet Treats every Wednesday at dinner.
Chef's Table every Friday at lunch.
Other On-Campus Dining Locations
The Hawk Hub has a large selection of new items on the menu for spring. Pastabilities will be featuring a rotating menu in addition to pasta that includes ramen bowls, burrito bowls and breakfast for lunch options. Fridays at Pastabilities will also feature Hand & Go Wings. Sauces will vary each week.
Our Hand & Go cooler will also be offering an expanded menu this spring including salads, caprese cups and a chicken salad trio box. Limited-time offers at Grille Works will start with a Spicy Maple Chicken Sandwich and Greens to Go will be featuring a Mexican Street Corn salad.
As always, stay up to date with what is happening by following our social media pages, Facebook IUP Dining and on Twitter and Instagram @iupdining. We share updates including hours of operations, specials, limited time offers and pop-up events.
For Your Safety
Masks are required in all locations.
Social distancing is a must.
All beverages will be bottled or canned (no fountain drinks).
Use of reusable mugs and bottles is suspended.
All food will be served on disposable service ware.
Condiments will be individual packets.
Individually wrapped items will be offered whenever possible.
IUP Food Pantry and Help Center

If you are facing food insecurity, the IUP Food Pantry and Help Center is available by appointment. If you need pantry items, please call 724-357-2220 (8:00 a.m.-4:30 p.m.) or email iup-foodpantry@iup.edu to make an appointment. Please be prepared to present your I-Card.