What Former Students Have to Say
At the end of the program, we ask students to fill out a feedback sheet. Here is what they told us about the program in general, the classes, and the counselors:
About the Program in General...
"It was my first 'true' college experience. It helped me understand what to expect when I go to college. ...I realize the difference between college and high school much more after attending."
"By allowing us to live in the dorms, eat meals in the dining hall, walk around campus, this gave the appearance of college life in general."
"It let me know how colleges work and how I should choose where to go. It also showed me the kinds of programs and courses offered."
"It showed me what classes were like for students, what kinds of teaching styles to expect from the professors, and how to deal with being away from home."
"It helped me understand what it is like to live in a dorm room with a roommate and becoming friends with her even though I thought we would have nothing in common. It was also nice to work with all of the scientific equipment that my high school (or most high schools in general) doesn't't have."
"It helped me figure out what I need in college. I now have a new and improved batch of guidelines to use when I start my college search."
"It showed me that there are many people out there who are willing to be open-minded and honest. To me, that is the most important part of college."
About the Classes...
"It was one of the best courses I've taken. I liked the material because we did hands-on activities as well as classroom activities."
"I was thrilled with the field experience, and the professors were knowledgeable as well as enthusiastic."
"I learned an amazing amount of very useful things in a relatively short amount of time. The prof was simply excellent and a great teacher."
"The prof was the best teacher I have had yet; I learned more in her class than I did in my whole junior year history class."
"I really liked the class. I learned a lot! The class was not too big and the prof even knew our names. I like that we got to discuss everything and had some choices as to what we wanted to do."
"It was very interesting and fun. The professor always kept us laughing and having fun with biology."
"I loved the class! I learned a lot and enjoyed meeting the professors, and the material was terrific and interesting."
"It rocked! It was the best learning experience I've ever had."
"It was much more hands-on than any class I have had before, which is more effective than simply lecturing the information to us. The instructors were extremely interesting, both in their knowledge of the subject matter and their senses of humor."
"I thought it was great. ...It was also nice working in such a well-equipped lab. My high school's technology is nothing like it. The profs were very one-on-one and friendly."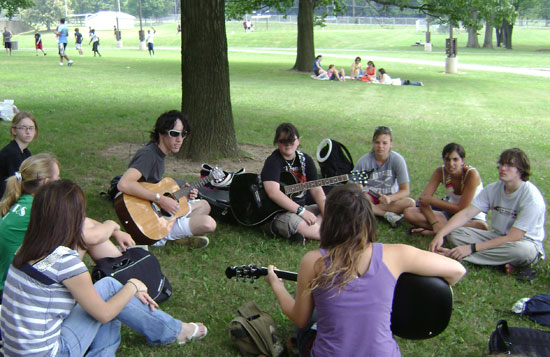 About the Counselors...
"Awesome—they tried to make our experience great, and from what I experienced, it was."
"I think the counselors were on a personal level with the students. They were pretty cool even though they had to enforce the rules."
"They did a good job bridging the gap between authority and friend."
"I thought they were good at being leaders and making sure everyone was following the rules about bedtimes. I also think that exceptions were made appropriately."
"Awesome, helpful, and friendly. They made the experience more enjoyable. I liked that they tried to incorporate as much independence as they could."
"I really enjoyed the friendly atmosphere and the way the counselors didn't't treat us like children."