Accounting Majors
Tia Kipp Gamler
Class of 2005
Hometown: Quakertown, Pennsylvania
Major: Accounting
Further Degrees: CPA license
Current Employer: I'm the assistant controller for Cigars International. I've been employed at CI for over 5 years, starting as the staff accountant and being promoted to Assistant Controller within the past year.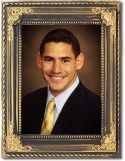 Joe Lipsitz
Class of 2007
Hometown: Amherst, New York
Major: Accounting with Pre-Law concentration
Since graduating, I have earned CPA (Certified Public Accountant) certification. I am currently pursuing the CFP (Certified Financial Planner) designation.
After graduation, I spent two years working at a public accounting firm in Tucson, Arizona, before moving back home to the suburbs of Buffalo, N.Y. I am thrilled to be working in my ideal job as a CPA and financial planner at L&M Financial Services, my father's business.

Kathryn Glaws
Class of 2007
Major: Accounting

Minor: Finance

Hometown: North Canton, OH
Additional Degrees: Currently earning my Doctorate of Physical Therapy at Belmont University, class of 2012
List of Majors
International Business Majors
Robin Beisel
Class of 2011
Hometown: Clymer, Pa.
Major: International Business
Minors: French and Marketing
Ray Edwards
Class of 2011
Hometown: Wernersville, Pa.
Majors: International Business and Economics
Jennifer Krastin
Class of 2012
Hometown: Coopersburg, Pa.
Majors: International Business and Spanish for International Trade