IUP at a Glance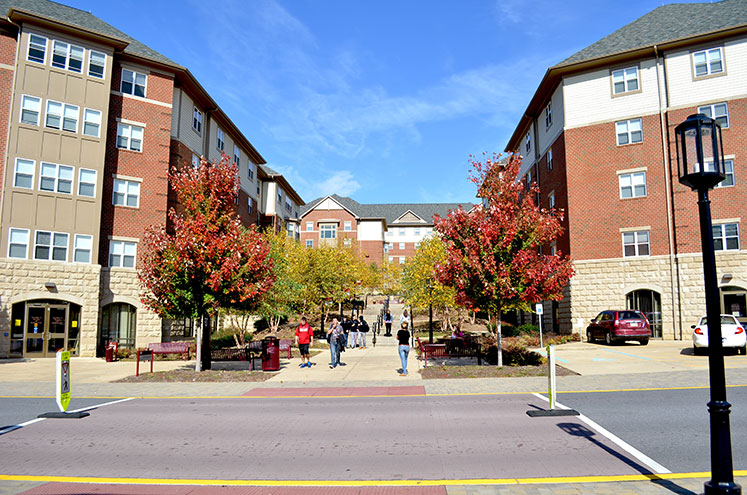 Founded in 1875, IUP is a vibrant, comprehensive, research-based, teaching-focused, student-centered learning community.
IUP combines the academic opportunities of a large university with the highly personalized and intimate learning-centered environment of a small college.
Over 10,000 undergraduate and graduate students are enrolled in our accredited and nationally recognized programs, enjoying traditional and nontraditional classroom experiences, engaging in research and service activities with their faculty mentors, becoming lifelong learners, preparing for rewarding careers and productive lives, and developing leadership skills for effective citizenship.
Institutional Accolades
IUP makes significant contributions to the economic and cultural strength of the region, the commonwealth, and the nation through education, scholarship, and service. The university is consistently recognized for excellence by national publications, as well.
Learn more about IUP's accolades and achievements in our Points of Pride.
University Accreditation
IUP is accredited by the Middle States Association Commission on Higher Education. IUP has received consecutive reaffirmations of accreditation since 1941.
Campuses
Located in the heart of Indiana, Pennsylvania, IUP's main campus has grown from 12 acres and one building in 1875, to 354 acres and 65 major buildings. The IUP Student Cooperative Association not only owns and operates the Hadley complex adjacent to the main campus, but also owns and maintains a 280-acre outdoor recreational park a short distance away.
Affiliate campuses are located in Punxsutawney, Northpointe (Armstrong County), and Pittsburgh East (Monroeville).

The nationally recognized IUP Academy of Culinary Arts is in Punxsutawney.

The IUP Libraries consists of the Stapleton/Stabley building, the Orendorff Music Library, and the Punxsutawney Regional Library. The Stapleton/Stabley building, which serves as the central university library, houses the main book and periodical collections, technical and public services, special collections and archives, as well as media resources and services. All libraries and all services are an integral part of IUP Libraries, a system whose resources are linked by means of an automated union catalog.
Enrollment and Students
In fall 2021, there were 9,308 students:
7,044 undergraduates

1,965

graduate students
299 clock-hour students
61 percent female, 39 percent male
2,415 (24 percent) minority
376 (4 percent) international
IUP students are bright, inquisitive, and accomplished
Faculty
At IUP, students work closely with their professors to achieve their goals. Nearly all classes are taught by faculty members, as opposed to graduate assistants.
Four faculty have been included in a list of the 300 highest rated by students in the US (Princeton Review.)

Faculty and staff have won 75 Fulbright scholarships, allowing them to study and research in more than a score of countries.

Faculty research has been sponsored by institutions such as the National Science Foundation, NASA, the American Chemical Society, the National Institutes of Health, the Centers for Disease Control and Prevention, and the US Department of Education.
Degree Programs
Not only does IUP offer an abundance of undergraduate and master's programs, but it is the only university in the Pennsylvania State System of Higher Education to offer Doctor of Philosophy degrees. Degrees are offered from the broader, more traditional (philosophy, anthropology) to the career specific (safety sciences, respiratory therapy). IUP boasts:
Student Life
Students benefit from the leadership, professional, service, and social opportunities offered by more than 250 exciting student organizations, including 30 fraternities and sororities.
IUP has been ranked sixth in student clubs and activities among colleges in the mid-Atlantic region by College Insider.
Find out more about student life at IUP.
Athletics
IUP competes in the Pennsylvania State Athletic Conference and is an NCAA Division II member.
Seven varsity sports for men (baseball, basketball, cross country, football, golf, swimming, and track and field) and 10 for women (basketball, cross country, field hockey, lacrosse, soccer, softball, swimming, tennis, track and field, and volleyball).
Scholarships are available for all varsity sports.
IUP students also get involved in a variety of club and intramural sports.
Find out more about athletics at IUP.
Colors
Our colors are crimson and gray.
IUP Value
IUP keeps tuition costs competitive using the per-credit tuition model. Find out an estimate of the 2020-21 tuition costs with our Cost Estimator.
IUP disburses substantial financial aid in the form of scholarships, grants, work-study programs, and low-interest loans. In 2019-20:
9,798 students received financial aid
The average student aid award was $16,000+
4,436 students received scholarships specifically from IUP, totaling more than $7 million
Find more information about IUP in the Crimson Snapshot.
The Foundation for Indiana University of Pennsylvania
The Foundation for Indiana University of Pennsylvania is a nonprofit organization founded in 1967. The mission of the Foundation is to assist the university with achieving its goals by maximizing private support and acquiring or otherwise providing scholarships, buildings, grounds or other suitable facilities, improvements, or equipment for the university and students. As of June 30, 2020, the Foundation Investment Portfolio was more than $102.7 million (of which approximately $61 million in endowed funds).
Note: FIUP information current as of June 30, 2020.