Dean's Innovation Fund: College of Fine Arts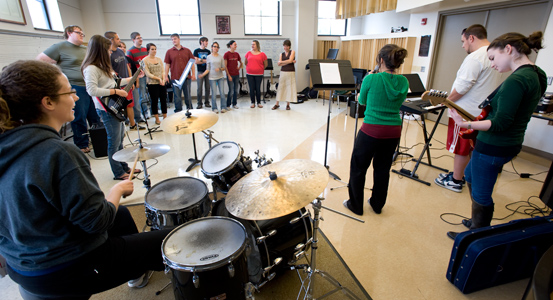 Gifts of all sizes are needed to meet the variety of needs in the College of Fine Arts.
Below is a detailed list of how your gift of a specific amount could be used toward the college's Dean's Innovation Fund.
$25: Scripts for the major's script library, fabric for a costume, a set of scenic art paintbrushes, CDs for the music library
$50: Ten sheets of color media for stage lights, four tickets to a Theater-by-the-Grove production, one gallon of scene paint, sponsorship of student travel to museums and galleries, a pair of tap shoes, specialized tools for the Center for Turning
$100: A stage dialects instructional video, modest costume for a character in a play, materials for a four-by-eight-foot stage platform, videos or DVDs for visual resource lab, computer graphics programs for art/design students
$250: A conventional stage lighting fixture, sound design software upgrade, fees for music master class, promotional season banners for the front of the building, ten student tickets to the Pittsburgh Symphony Orchestra, specialized tools for Center for Turning
$500: A sewing machine, lavaliere microphone for videography recording, magazine recruiting ad for the program in stage directions, talent scholarship for an incoming freshman, rental of large ensemble work, student faculty trip to New York, two venturi burners for the Raku Kilns in ceramics
$1,500: A digital sound effects library, keyboard for the sound studio, dimmer module for the studio theater, recruitment fliers and posters, guest conductor visit for ensembles, bus for touring of ensembles, travel expenses for two students to attend Anderson Ranch Arts Center in Aspen, Colo.
$2,500: A sound console, automated lighting fixture, set of speakers for the theater main space, draperies to cover the frames of the theater main space seating risers, production of one thousand Heinz Hall recruitment CDs, production of the annual Marching Band and Concert Band CDs, additional steel drums for the percussion studio, purchase of ten drafting stools for student workbench in jewelry, two forced-air burners for the new Soda Kiln in ceramics, graphic design software packages
You may make an immediate gift online by following the link above. Or, get print forms that you may mail to us. Either way, we thank you!