Student Affairs Makes Moves to Include Student Groups in Programming Efforts
Posted on 2/23/22 2:07 PM
The Division of Student Affairs is announcing a new initiative to connect student groups and organizations with university offices through Sponsor a Program.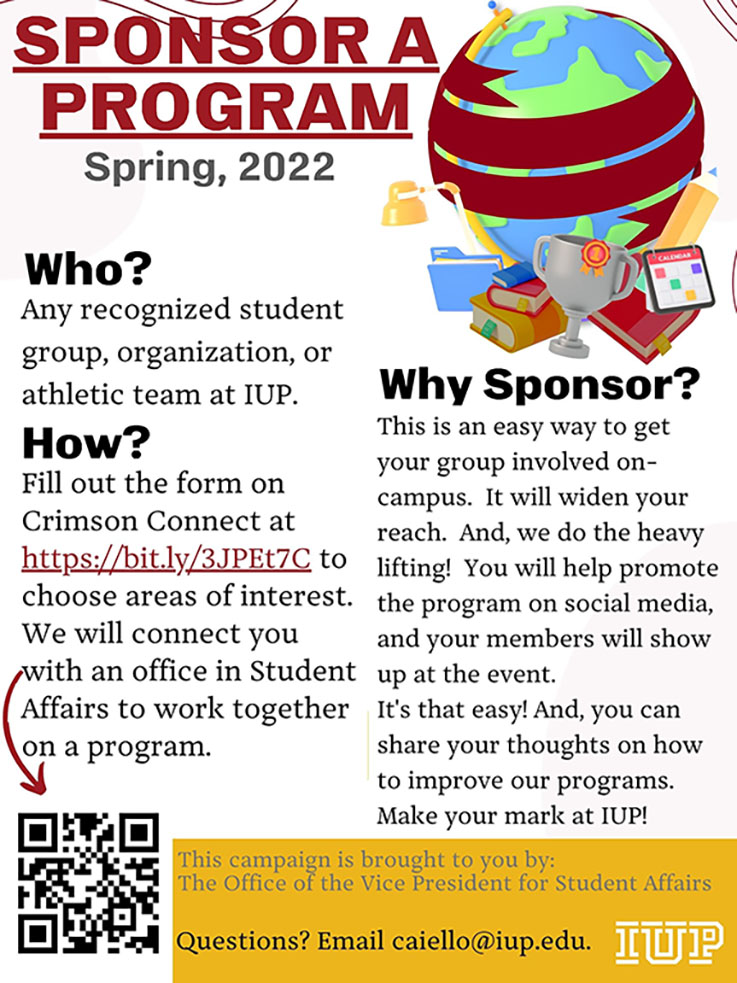 Vice President for Student Affairs Thomas Segar said, "The opinions and support of our student groups are essential to helping us plan for quality programming that speaks to students across a wide range of demographics with varying interests. Sponsor a Program will connect interested groups with offices within the division to develop student-centered programming."
Interested groups looking to partner with Student Affairs offices should fill out the form on Crimson Connect. From there, Director of Communications for Student Affairs Caitlin Aiello will connect the group with an office that best aligns their programming efforts with the organization's interests. Aiello said, "We are excited for this new campaign designed for the division to connect with our student groups more closely. Any student group, organization, or athletic team at IUP can participate. Once groups indicate the type of programming that meets their interests, we will connect them with the office that best aligns with those interests."
Student groups who participate in Sponsor a Program can look to widen their reach on campus. The offices within the Division of Student Affairs will do the heavy lifting, so groups can focus their efforts on attending the programs and promoting them via social media.  
Segar said, "We also hope that the campaign will lead to more direct conversations between students and our offices to lead to more meaningful, student-centered programming. We want to hear from our students about their passions and interests. We hope that Sponsor a Program will help make and solidify those connections between students and professional staff and faculty."
Questions about Sponsor a Program can be directed to Caitlin Aiello at caiello@iup.edu.