After a year's hiatus, the Adopt a Game Program is up and running! Student and staff groups, organizations, and departments from IUP are all welcome to participate in this free sponsorship opportunity.* Both men's and women's home basketball games are accepting sponsors.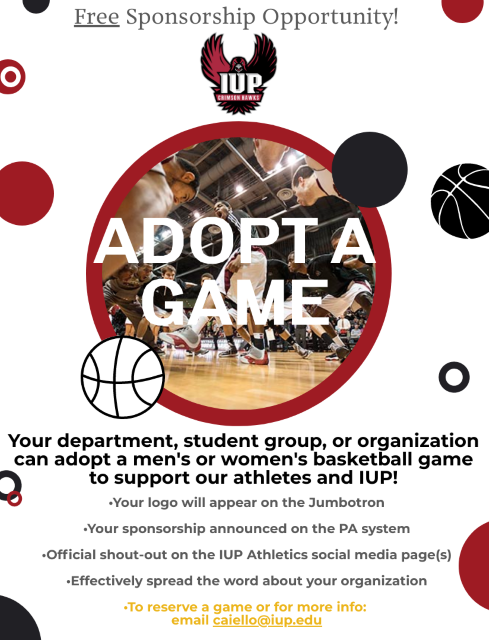 Sponsors will have their group recognized at the game by having their logo or chosen graphics displayed on the Jumbotron, an announcement about their group made over the public address system, and an official "shout-out" on IUP Athletics' social media page(s). Arrangements can also be made for your group to have a table at the game for additional publicity.
This is an excellent opportunity to effectively spread the word about your organization through free advertising and to show your support for our Hawks basketball program and student-athletes.
The Adopt a Game Program will be in effect for the spring semester for home basketball games. Interested groups should contact Caitlin Aiello at caiello@iup.edu for a schedule of available games and more information. Looking forward to seeing you on the court!
*Following COVID-19 safety protocols, all attendees are required to wear masks inside of the KCAC.