Do you have a passion for competition? Do you love basketball? Looking for an extracurricular activity to enhance your résumé? Consider joining the Women's Basketball Team Staff!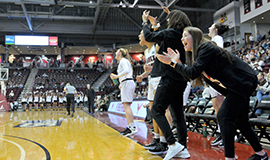 IUP Athletics is hiring student team managers for the IUP Women's Basketball Team. You will assist with daily team operations, practice, shootarounds, and game sidelines; prepare team uniforms and gear; and assist in various office tasks. Students must be willing to work nontraditional hours, enrolled at IUP, eligible for Federal Work Study, or interested in volunteering as a manager.
Interested students should email a short biography of themselves and why they are interested in joining the staff to Assistant Coach Lexi Griggs at agriggs@iup.edu. See you on the court!