Within IUP's Student Affairs Division are faculty, staff, and student paraprofessionals who are dedicated to promoting the success of IUP students on all levels—academically and personally. These individuals lead and support a broad spectrum of programs and services, working in partnership with others at the university and in the community. They are student advocates, responding to the diversity of needs, interests, and aspirations among IUP's students.

Student-Centered University
In May 2015, the Student Affairs Division adopted a framework to guide its impacts on IUP's vision to become a student-centered university. To be student-centered does not necessarily mean more effort or resources…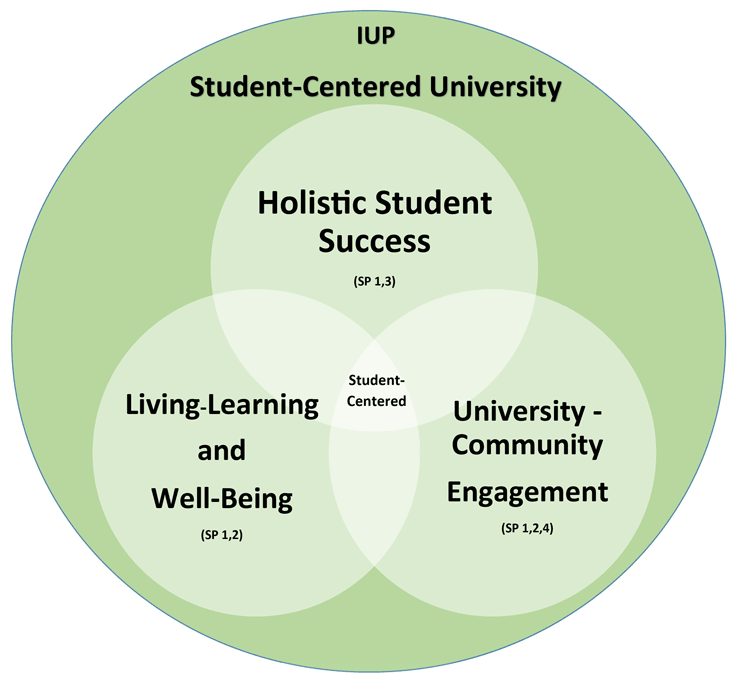 What it does mean is that we do what we do better, as measured in terms of student learning outcomes. A student-centered university is learner-centered. It takes the whole community to be engaged in learning and to be focused on student impacts and outcomes. Student Affairs' faculty and staff have a mindset that supports the holistic development of students. Both of these principles—student-centered and holistic development—have created an effective platform for the Division's transformative change and will guide our efforts throughout the remainder of this decade.

Mission

Through collaboration focused on learning and achievement, IUP's Student Affairs Division offers student-centered services, programs, and experiences which promote excellence, stimulate discovery, celebrate differences, and challenge students' growth, development, involvement, and success.

Vision

By fostering a supportive campus environment and offering services, resources, and experiences, which inspire self-discovery and growth, the Student Affairs Division prepares students to be productive citizens and successful leaders in a diverse world.

Keystones

Student Success
Inclusion and Engagement
Individual and Community Well-Being
Accountability and Sustainability
Values

Involvement
Integrity
Compassion