Speech-Language Pathology, MS
Innovative Training for Services Across the Lifespan
The clinically-balanced MS in Speech-Language Pathology at IUP provides training for all practice settings: neonatal ICUs, schools, outpatient clinics and inpatient hospitals. Our innovative clinical program provides first-year opportunities for state-of-the-art service delivery with burst session models at local schools as well as individual and group therapy for adult neurogenic, autism spectrum, and pediatric communication disorders in our campus clinic. We have our own hospital simulation lab to prepare students for the medical side of the profession. And, you can relocate to most anywhere in the state or country during the second year of the program for two full-time internships. 
See our 51-credit curriculum sequence: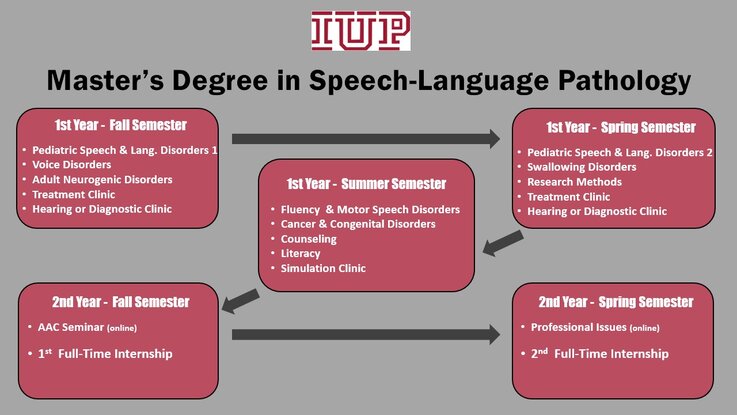 Why Choose IUP's MS in Speech-Language Pathology
Small Cohort – You will be part of a small, inclusive cohort of 24-28 students.
Financial Support – The majority of our graduate students receive funding in the form of scholarships, assistantships, or federal work study. 
Scaffolded Clinical Experiences – Our clinical faculty have advanced training in supervision and service delivery.  They will scaffold their first-year clinical instruction to your emerging skill development and prepare you for your internships during the second year of the program.
Simulation Clinic – We are one of the first programs in the country to build an acute care simulation lab dedicated to medical speech-language pathology services. We have published and presented nationally on our simulation program. Simulation Article And, students rave about the impact it has on their confidence and clinical readiness for their healthcare internships.
See our what our students can do: 
Second-year Internships Anywhere – You have the option to leave campus during the second year of the program and may be able to live at home or in another state while completing full-time internships. Our clinic director works diligently to find quality placements for you from a large network of school, hospital, rehabilitation, and outpatient clinic facilities.
Student Outcomes – We have maintained high rates of on-time completion, as well as a 100 percent pass rate on the national exam and 100 percent employment rate within a year of graduation. View data from the last three years.
Credentialing – Our graduates meet the requirements for 1) the Certificate of Clinical Competence, 2) licensure in Pennsylvania (with reciprocity in many other states, however, check the requirements on state licensure elsewhere), and 3) education specialist certification from the Pennsylvania Department of Education to work in schools. 
Accredited – We are accredited by the Council on Academic Accreditation in Audiology and Speech-Language Pathology of the American Speech-Language-Hearing Association. View information on our accreditation.
Applying to the MS in Speech-Language Pathology Program
See what prerequisite coursework you need in order to enter our program, what to include in your application materials, and how to sign up for a face-to-face or virtual open house. 
Program Commitment to Diversity and Inclusion
The IUP Speech-Language Pathology program affirms our commitment to creating an inclusive environment for all students, regardless of age, citizenship, disability, ethnicity, gender identity, genetic information, national origin, race, religion, sex, sexual orientation, or veteran status. 
We strive for fair representation of students of color in the profession, amplifying diverse perspectives and voices in our classes, and encouraging appreciation of various cultural group practices. Students in our program complete the Passport to Cultural Competence throughout both the undergraduate and graduate programs. By engaging in a range of cultural experiences, simulations, and guided case scenarios, students learn (a) how to ensure quality patient care for a diverse range of clients and their families, and (b) collaborate effectively on multidisciplinary teams in various education and healthcare settings.