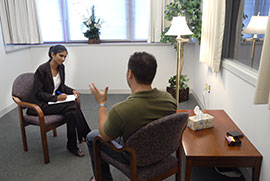 A variety of health and wellness services are offered by our centers, institutes, and clinics.

Services include counseling, assessment of learning and behavioral problems, health and fitness screenings, nutrition counseling and education, and diagnosis and treatment of speech, language, and hearing disabilities:

See a complete list of these centers:

The Center for Applied Psychology is a training clinic that provides assessment, psychotherapy, consultation, education, and research. It houses four clinics staffed by IUP faculty members who are licensed psychologists and by doctoral students.
This center provides health education, screenings, and fitness intervention programs to IUP, area school districts, and other community entities.
The Child Study Center provides assessment and short-term treatment of learning or behavioral problems, consultation to parents and schools, identification of disability or giftedness, and other services.
This center provides driver education programs and first responder and emergency response team training.

This clinic provides diagnosis and treatment for people with speech, language, and hearing disabilities.