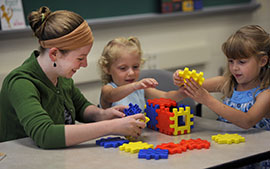 Our centers and institutes provide a variety of educational services to children, families, schools, human service agencies, professionals, and more.
Educational services range from English education and resources for gifted students to sports camps and training for police and emergency responders.
See a list of these centers and institutes:
This is an applied interdisciplinary center that supports sponsored research, program evaluation, policy analysis, technology transfer, and training.
This institute helps to organize sports camps for students and to train camp counselors, coaches, and others.
The center helps to prepare, update, and upgrade career and technical educators.
The Child Study Center provides assessment and short-term treatment of learning or behavioral problems, consultation to parents and schools, identification of disability or giftedness, and other services.
The Criminal Justice Training Center offers noncredit training programs for police recruits and law enforcement personnel.
This center works to solve problems relating to highway safety, provides driver education, and provides first responder and emergency response team training.
This institute facilitates faculty/student interactions in research, presentations, publications, and workshops to promote the need to ensure security and integrity of information.
The school provides noncredit private lessons, ensembles, and classes in music to students of all ages in the university community.
The Bill and Judy Scheeren Literacy Center provides assessment and instruction for children and adolescents needing assistance with reading and writing.
MARTI is a consortium of academic and professional experts in the fields of alcohol abuse treatment, domestic violence intervention, and related mental health issues.
This institute offers knowledge and expertise in archiving, digitally recording, and geographically referencing historical coal mine maps.
This center develops software, builds software systems, and works to improve the software development expertise of the region.
This center brings quantitative literacy and the hands-on use of mathematics' manipulatives to K-12 teachers.