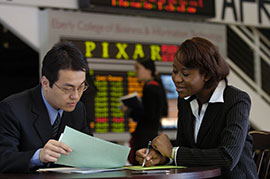 Many opportunities for business, industry, and government partnerships are offered through our centers and institutes.
Services these centers provide include intensive English education for non-native speakers, research assistance in a variety of fields, business training and consultation, procurement assistance, mine maps, homeland security information, occupational safety and health consultation services, and excavation, surveying, and other archaeological services.
See a complete list of these centers:
This is an applied interdisciplinary center that supports sponsored research, program evaluation, policy analysis, technology transfer, and training.
The American Language Institute offers intensive programs in English as a Second Language.
Archaeological Services offers consultation, on-site surveys, and site evaluations and excavations to assist in the location and preservation of sites and artifacts.

ExcEL Center: Excellence in Entrepreneurial Leadership

The ExcEL Center works to enhance the culture of entrepreneurship, innovation, and new venture creation throughout the university and local community.
This center provides professional presentations and the opportunity for roundtable discussion on relevant topics with other representatives of family businesses in informal, facilitated groups.
This institute facilitates faculty/student interactions in research, presentations, publications, and workshops to promote the need to ensure security and integrity of information.
The Management Services Group provides consulting and business services to ongoing and startup businesses, both profit and nonprofit.
This institute offers knowledge and expertise in archiving, digitally recording, and geographically referencing historical coal mine maps.
This program assists private-sector employers in understanding and voluntarily complying with safety and health regulations enforced by the federal Occupational Safety and Health Administration.
This center conducts and promotes scholarly research in criminology and criminal justice.
The Small Business Development Center provides entrepreneurs with the education, information, and tools necessary to build successful businesses.
The SBI provides business support services to local businesses and organizations through business students teamed with faculty members with professional consulting backgrounds.
This center develops software, builds software systems, and works to improve the software development expertise of the region.