Philosophy, Politics, and Economics (PPE) Track, Philosophy BA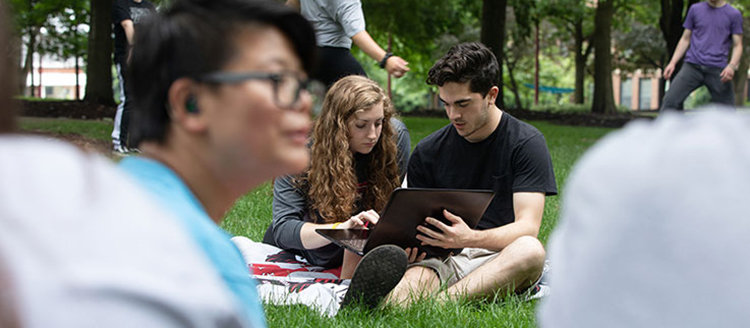 Study How the World Is, How It Could Be, and How It Should Be
The PPE Track helps you understand the social institutions and structures that shape our world. You'll look through the lenses of three disciplines—philosophy, political science, and economics—to understand how the social world actually is, could be, and should be.
Explore how economic systems operate and predict the potential effects of policy changes. Examine how political systems work and how those systems might be changed. Analyze, through philosophy, the moral costs and benefits of different economic and political systems.
Big Picture Perspective
Your classes will address real-world issues from three perspectives so you can appreciate the full complexity of the issues we face today. You'll tackle questions like:
How should we weigh the risks and consequences of global climate change for future generations against the needs of current generations?
What is the optimal way to allocate scarce healthcare resources in situations where we do not have enough to save everyone?
How do the incentives in place in our criminal justice system affect legislation and enforcement and how could they be changed to better serve the public interest?
What are the moral advantages and disadvantages of free markets?
Which form of democracy do we have the most reasons to adopt and why should we choose that form over other possible forms of democracy?
Apply It All to Our Times, Our World
How we answer these questions and what we do with those answers will have far-reaching consequences that impact all of us. Using the combined knowledge, tools, and skill sets provided by philosophy, political science, and economics, you'll confront the most important issues of our time and consider not only what we can do as a society, but also what we should do.
Personalize Your PPE Degree
In this flexible degree, you'll have options for classes in each of the three main subjects. Choose the classes that interest you most.
Study Three Subjects + Specialize or Add a Minor—All in Four Years
You'll explore philosophy, political science, and economics for the PPE degree without the extra time and cost of having multiple majors. Along with classes in these three areas, you'll have 35-44 credits of free electives you can use to specialize in one of them or add a minor or certificate in something else.
Minors to Consider – global health, sustainability studies, cybersecurity, homeland security, applied statistics, or professional teamwork and leadership studies (see more minors)
Certificates to Consider – geospatial intelligence analysis, cultural competencies, or foreign languages (see more certificates)
IUP's PPE Program One of the First in the PA State System
PPE as an interdisciplinary program of study began about one hundred years ago at the University of Oxford. More recently, a number of prominent universities and colleges in the United States have begun offering PPE programs. IUP is one of the first two universities in the Pennsylvania State System to offer a program of study in this interdisciplinary field.
Careers
The PPE program is a good match for students who are curious about a broad range of academic areas and are interested in how they can make a difference in the world. It can also provide focus for students concerned about the impact of law, policy, business, and government on individuals, social groups, and the broader world. The PPE Program is designed to prepare students for careers in:
Government/politics

Law school and careers in law

Public policy

Public administration

Nonprofit sector careers

Advocacy

Community organizing

Other career areas based on specializing your courses or adding a minor
Add Experiences on Campus
Through our wide variety of campus activities and student organizations, you can find leadership opportunities and hands-on activities related to all three disciplines in the PPE track.
For example, you could:
Meet students with similar interests in the Philosophy Club, Economics Club, or Political Science Club.

Represent students through the Student Government Association.

Talk to visiting alumni on campus to learn about careers and begin networking.

Participate in International Education Week events or join one of our clubs with an international or global perspective.

Present your own research at IUP's Scholars Forum.

Attend events on campus to learn more about social equity, intersectionality, and more.

Do an internship—check out opportunities at the Washington Center.

Join the IUP Pre-Law Society, which has a library of LSAT prep books.

Explore the law school fair held at IUP in the fall or one of two workshops held at IUP every year on applying to law school.

Sharpen your debate skills in IUP Mock Trial.

Volunteer your time to raise awareness of social issues or to lend a helping hand—paint an umbrella to show support for survivors of sexual violence for RAINN project in the Oak Grove, sleep outside overnight in February to help homeless veterans, or take part in IUP's Into the Streets, a biannual day of service when students help local nonprofit and human service organizations with clean-up, painting, landscaping, and other projects.