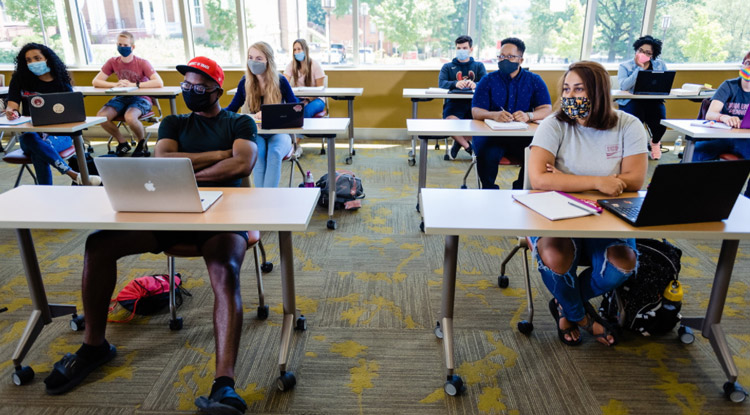 Textbooks
The IUP Co-op Store provides textbooks through counter service. You can place your orders on the store's website and stop in for pickup or have the orders shipped. Walk-in business has resumed, but online ordering is strongly encouraged. The store also has options for using Financial Aid refunds towards textbook purchases. Please check your IUP billing statement to see if you have a refund before choosing this option.
International Students
The Office of International Education continues to support international students and scholars at IUP, and will continue to offer programming to the community to build awareness about other cultures. Please check the office's Events Calendar for activities and programming opportunities.
Academic and Other Help
This one-stop resource center for students offers both live responses and the opportunity to submit questions via email, with responses coming within 24 hours.
IUP Guides for First-Year Students
Adjusting to university life is challenging, even in the best of circumstances. To help first-year students, we will match you with a specially trained IUP employee to serve as a guide for your time at IUP. Our Student Support and Engagement Team in the Student Affairs Division developed this new program to make sure you don't get lost in your new environment. 
Tutoring
Tutoring and other assistance will be offered remotely to the fullest extent possible. Please check with your advisor or your faculty member on tutoring options.
IUP Libraries
Hours of operation for specific services and exceptions to regular hours are posted on the Libraries' site.
Computer Labs
Computer labs are available to all IUP students; requirements for face coverings must be followed. Students may be required to make arrangements in advance to use a computer lab.
International Students: Virtual SkillZone
SkillZone continues to offer academic and social support for international students and scholars. You can learn more and make an appointment to work with a tutor on the SkillZone website.
Tips and Resources for Online Learning
The Academic Success Center has compiled information for students, including tips on instruction and note-taking, overcoming procrastination, and the importance of self-care stress management.
Writing Center
Schedule a tutorial session online or visit the Jones White Writing Center site to find contact information.
Students with Disabilities
The Department for Disability Access and Advising can assist students with disabilities in connecting with their professors to ensure the best learning experience possible. 
Instructors will receive a list of students who need accommodations for their classes from the Department for Disability Access and Advising. On the department's website, you can find information on the following topics:
Accessibility and accommodations during the coronavirus pandemic
Tips for managing at-home and remote learning