Tickets
To purchase tickets, please click on the following link for a list of all shows that currently have tickets available for purchase: TICKETS
Spanning eras, countries, and cultures, the 2023–24 season offers a diverse selection of dance, music, theater, and art. There is sure to be something for everyone.
For the most up-to-date information on both free and ticketed events,  please visit our Events Calendar.
Ovations Series
Peking Acrobats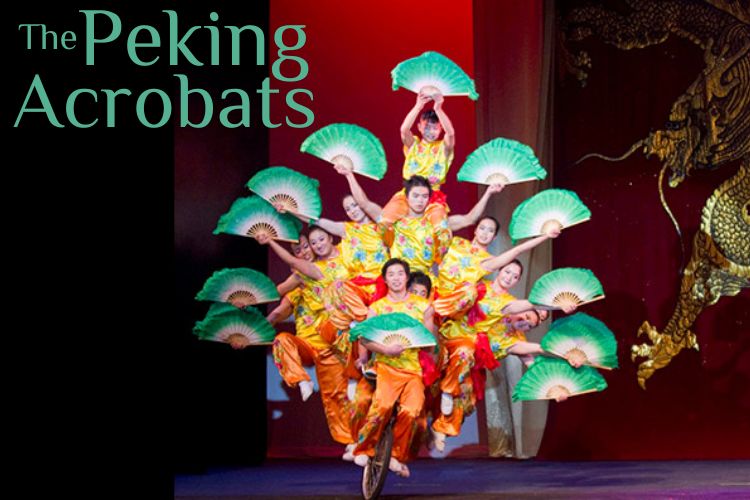 Tuesday, February 27, 2024
7:30 p.m.
Fisher Auditorium
For the last 32 years, the Peking Acrobats® have redefined audience perceptions of Chinese acrobatics. They perform daring maneuvers atop a precarious pagoda of chairs and display their technical prowess at such arts as trick-cycling, precision tumbling, juggling, somersaulting, and gymnastics. They push the limits of human ability, defying gravity with amazing displays of contortion, flexibility, and control.
Bring the whole family to enjoy this fun event!
---
Nrityagram + Chitrasena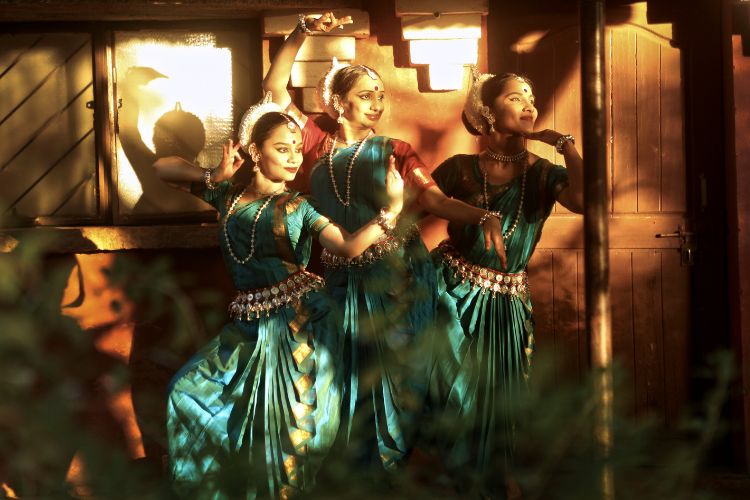 Tuesday, March 26, 2024
7:30 p.m.
Fisher Auditorium
The Nrityagram Dance Ensemble, in collaboration with the Chitrasena Dance Company, presents Āhuti, a thrilling combination of classical Odissi dance from India and traditional Kandyan dance from Sri Lanka. Meaning "offering," Āhuti bridges the gap between distinct dance traditions of these South Asian cultures, in the second cross-cultural collaboration between these two acclaimed companies.
---
Sims Fellows Series  
IUP Cellobration Festival 2023
Saturday, November 11, 2023
5:00 p.m.
Cogswell Hall, Room 121
Free Admission
The IUP Cellobation Day is a daylong festival celebrating cello playing. The day will include cello ensemble rehearsals and sessions on cello playing. The festival will feature Sims artist cellist Carina Voly and IUP professor Linda Jennings.
---
Choral Collage Concert with Janet Galván 
Saturday, March 23, 2024
Time TBA
Gorell Recital Hall, second floor Sutton Hall
This year's Choral Collage concert features music from the IUP Choirs and features Sims artist Janet Galván conducting as well as IUP professor Craig Denison. Please join us for an evening of beautiful choral music!
---
Geoffrey Burleson, Guest Piano Recital 
Monday, April 8, 2024
7:30 p.m.
Gorell Recital Hall, 2nd Floor Sutton Hall
Free Admission
Professor of Piano at Hunter College/CUNY Geoffrey Burleson will present a solo piano recital.
---
Sing to Love, Featuring Conductor Maestro Michael Borowitz
Saturday, February 17, 2024
8:00 p.m.
Fisher Auditorium
Maestro Michael Borowitz, currently the music director and associate professor of LSU Opera as well as the music director and artistic director for Opera Louisianne and former assistant conductor at the Metropolitan Opera, conducts IUP faculty, guests, and alumni in a Valentine's weekend salute to love!
---
Sound Choices Series 
Keystone Winds Reunion Concert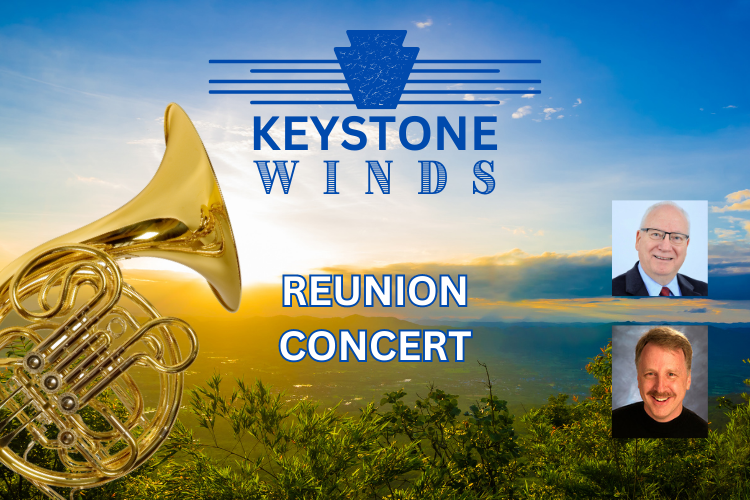 Sunday, November 5, 2023
2:00 p.m.
Fisher Auditorium
The Keystone Winds return with Jack Stamp and Tim Paul as conductors. IUP alumni musicians reunite to celebrate music making at the highest level and the musical friendships that last a lifetime. This is an event you don't want to miss.
---
Gilbert & Sullivan's The Pirates of Penzance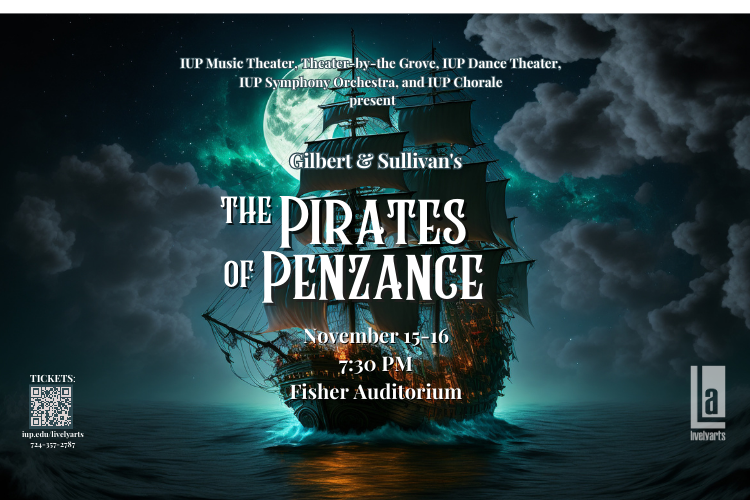 November 15–16, 2023
7:30 p.m. 
Fisher Auditorium
IUP Music Theater, Theater-by-the-Grove, IUP Dance Theatre, IUP Symphony Orchestra, and IUP Chorale present the exuberant musical theater masterpiece The Pirates of Penzance by Gilbert & Sullivan.
---
Theater-by-the-Grove Series
Create Breaks
Fall 2023
October 6, November 3, December 1
Spring 2024
February 2, March 1, April 5, May 3
11:15 a.m., Waller Mainstage
Free Admission
Join us during the common hour on the first Friday of the month during the academic year for workshops designed to give you a break from your studies and engage your creativity. (There will be no Create Break in January.)
---
Waller Haunts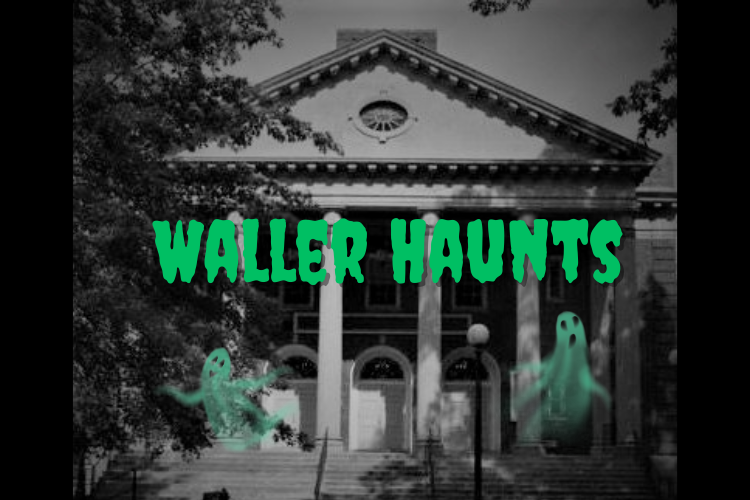 October 26–28, 2023
7:30 p.m.
Waller Hall
Welcome to Waller Haunts—an immersive Halloween experience. Join us as we explore Waller Hall's haunted history, moving through the building with the help of our ghoulish guides. Will you be able to tell fact from fiction by the end of your tour? This immersive experience requires the audience to move room to room in small groups at specific intervals. These spooky tours depart every 30 minutes from 7:30 to 9:30 p.m.
---
Theater: Top Secret - for Now!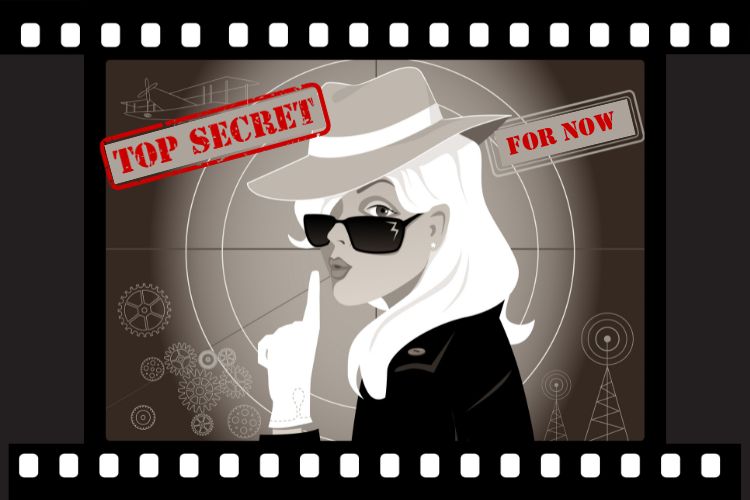 February 28–March 2, 2024 - 7:30 p.m. 
March 3, 2024 - 2:00 p.m.
Waller Mainstage
While we can't reveal the name of this show yet, expect it to be a thrilling escapade full of laughter, romance, mayhem—and tons of theatrical ingenuity.
---
New Works Festival
April 18–20, 2024 - 7:30 p.m.
April 21, 2024- 2:00 p.m.
Waller Mainstage
Theater-By-The-Grove's New Works Festival is back! Featuring new stories, new voices, and fresh ideas from our students, faculty, staff, and alumni.
---
The Acorn Project Pop-Up Performances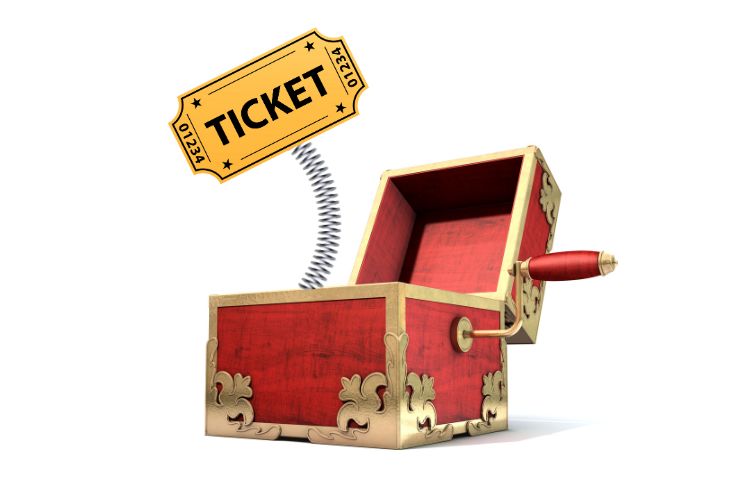 Dates, Times, Locations - TBA  
Throughout the year, the Acorn Project produces pop-up performances—for students, by students. Find Theater-By-The-Grove on Crimson Connect to stay up to date with opportunities to play with us.