Theater-by-the-Grove, produced by the Department of Theatre, Dance, and Performance, presents several productions each year, including the co-production with Music Theater of a major musical.
View the Events Calendar for Lively Arts.
Theater-by-the-Grove, Dance Theater, and Music Theater are funded, in part, by the IUP Student Cooperative Association.
Rodgers & Hammerstein's Carousel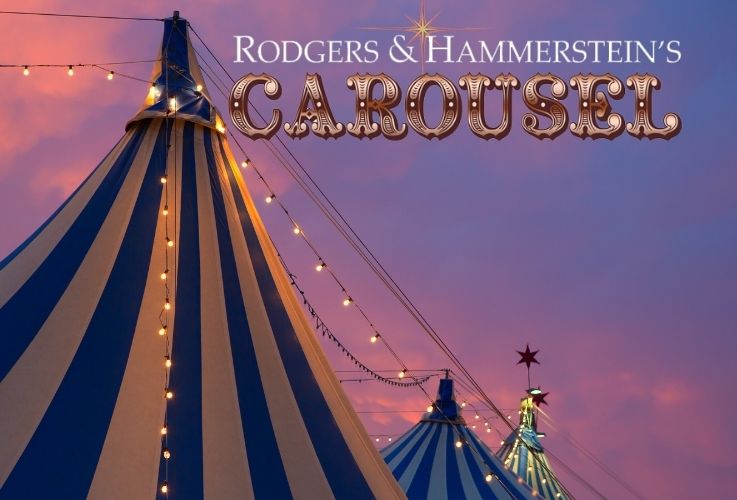 Music by Richard Rodgers
Book and Lyrics by Oscar Hammerstein II
Based on Ferenc Molnar's Play Liliom, as adapted by Benjamin F. Glazer
Original Choreography by Agnes de Mille
Directed by James Beaudry, Music Direction by Oliver Lo, Conducted by Alexandra Dee, Choreography by Joan Van Dyke
IUP Department of Theatre, Dance, and Performance and IUP Department of Music, Theater-by-the-Grove, and Music Theater Event
Live, in-person event
Fisher Auditorium
Thursday, March 3, 7:30 p.m.
Friday, March 4, 7:30 p.m.
The second hit musical by the acclaimed writing team after their tremendous success with Oklahoma!, Carousel includes the well-known songs "If I Loved You," "June Is Bustin' Out All Over," and "You'll Never Walk Alone." Set in late nineteenth-century coastal Maine, Billy Bigelow, a swaggering, carefree carnival barker, falls in love with and marries the sweet but naive millworker Julie Jordan. After the marriage costs them both their jobs, and dwarfed by the immensity of their situation, Billy's tragic effort to provide for his wife leads each of them on a different and difficult path toward forgiveness. A story about the triumph of the human spirit in the face of seemingly impossible odds.
"Oklahoma! is about a picnic, Carousel is about life and death." —Stephen Sondheim
Carousel is presented by arrangement with Concord Theatricals on behalf of the Rodgers & Hammerstein Organization.
---
Spring Semester
Acorn Projects
Theater-by-the-Grove 
Live, In-Person Events
Waller Studio Theatre
7:30 p.m.
Acorn Project 1
February 25–26
From tiny seeds, mighty oaks do grow! The Acorn Project incubates and showcases theater and dance student creativity by providing opportunities to perform, produce, direct, write, and design. (Please note that Acorn Projects will be produced by a student board, and determination of specifics such as title and even performance times in these "windows" will be determined sometime after the second week of classes. Some of these held weekends might not be used.) 
April Acorn Project
April 22–24
April's Acorn Projects feature a double bill of entertainment by IUP students.
May Actions Yield Auspicious Befitting Change
Written and Directed by Maya Catoe
After graduating high school, a young woman leaves her protective bubble of life to venture into the real world. The trials and tribulations she faces lead to massive changes; however, change does not mean that's all there is to the story. 


Mabel and Joe
By Cat Hebner
Directed by Jeremy Galloza
This one-act play tells the story of 18-year-old college freshman Mabel and 76-year-old war-veteran Joe. Their chance meeting at the local coffee shop in a college town becomes a friendship in which both share their lives' joys and hardships with one another. 
---
New Works Festival
Theater-by-the-Grove
Live, In-Person Events
Waller Hall Mainstage
April 6–9 at 7:30 p.m.  and April 10 at 2:00 p.m.
The New Works Festival is fresh! It features new voices, new stories, and new plans from IUP students and alumni. Theater-by-the-Grove presents a series of short pieces that will surprise and delight our audiences, and perhaps inspire some thoughtful discussions as well. Up close and personal, the festival represents the origins of live-action storytelling—the emergence of characters crawling off their author's pages and coming to life on stage before your very eyes. You set the standard by responding to these imaginary places and people never before seen on stage. Cheers to the New!
Directed by Michael Schwartz in collaboration with Mark Clayton Southers of Pittsburgh Playwrights Theatre and student and guest directors.