Dance Theater
IUP Dance Theater is produced by the Department of Theatre, Dance, and Performance and presents at least two major concert programs annually.
The Ovations! series and Lively Arts also present additional dance events.
View the Events Calendar for Lively Arts.
March 27-28, 7:00 p.m., and March 29, 2;00 p.m., Zink Dance Studio, 2nd Floor Zink Hall
Join IUP Dance Theater as they unfold their unique rendition of It's Just a Bunch of "Hocus Pocus." On Halloween night the Sanderson Sisters are brought back from the dead by curious youth who then find themselves pursued by the sisters. Throughout the night the youth and a cat named Binx attempt to defeat the Sanderson Sisters. Under the direction of Holly Boda-Sutton, IUP Dance Theater will tell their tale through original choreography on the Zink Dance Auditorium stage.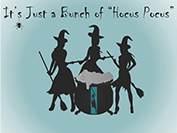 November 15-16, 7:00 p.m., November 17, 2:00 p.m., Zink Dance Studio, 2nd Floor Zink Hall
Join the IUP Dance Theater on a journey through the cosmos. Through movement and original music, explore the dynamic imagery and theories related to the universe. Directed by Holly Boda-Sutton, with an original score by David Martynuik, the work will include choreography and musical performance by invited guest artists.