Day of the Dead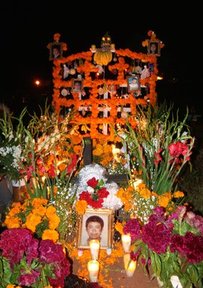 Day of the Dead is a holiday indigenous to Mexico with pre-Hispanic origins. It is a syncretism of indigenous rituals and Catholicism and is a beautiful, spirited, and reverent holiday.

This holiday fortifies family and community ties by its participants' preparatory, reciprocal, ritualistic, and meditative activities.
In the early 1970s it transformed into the public sphere and quickly became an effective forum for issues of social injustice, providing a social and political voice to groups of people who historically have lacked one. Additionally, Day of the Dead celebrations foster multicultural unity among people from diverse sociocultural backgrounds.

Every year, the holiday grows in popularity, and it is now widely celebrated publicly in communities and universities across the United States. In 2013, IUP celebrated its first annual Day of the Dead Festival, which generated unprecedented collaboration across the campus, as well as cross-cultural experiences for students.