Kovalchick Complex Tour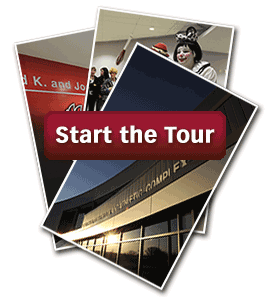 Located at the corner of Wayne Avenue and Pratt Drive, Kovalchick Convention and Athletic Complex at IUP is the region's latest landmark location.
It serves as home to IUP's basketball teams and volleyball team and the Athletics Department administration. The notion of watching nationally competitive teams play in a world class complex has caught the attention of IUP's campus community, as has the fact that IUP now has a place large enough to hold its May commencement ceremony indoors. Area residents are now able to attend big-name shows in closer proximity to home, while the regional business community can take advantage of the complex's extensive conference center facilities. The gallery below will give you an idea of how Kovalchick Complex is becoming a campus and community favorite.
Do you want to be a part of this facility? There are three ways to do that. Attend an event . Book an event . Or, name a seat in the arena or auditorium .
Also, see IUP Magazine's story about Kovalchick Complex's grand opening.