About the Kovalchick Convention and Athletic Complex
The Kovalchick Convention and Athletic Complex (KCAC) opened in March 2011 and is located on the campus of Indiana University of Pennsylvania (IUP) along Wayne Avenue.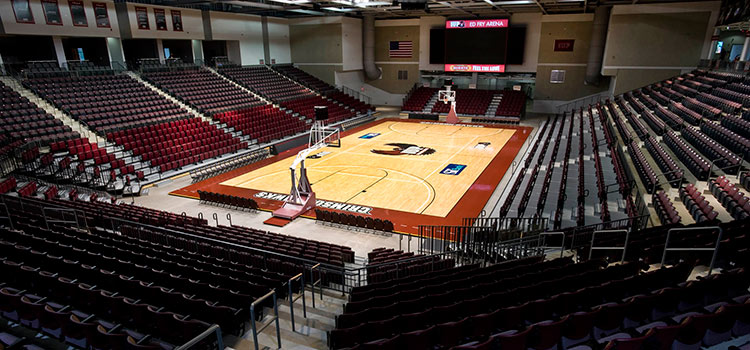 The facility is a 148,500-square-foot complex and offers multi-use adaptable spaces, including the 5,000-seat Ed Fry Arena, the 630-seat Toretti Auditorium, the 17,000-square-foot state-of-the-art Conference Center with multiple breakout rooms, and the 6,000-square-foot Corporate Training and Executive Conference Center. Included in the Conference Center is a fully equipped E-Conference Room with videoconferencing as well as teleconferencing capabilities.

Groundbreaking ceremonies for Kovalchick Complex took place November 13, 2008, and included an announcement of a challenge grant of $1 million for the facility from IUP graduate Chad Hurley, cofounder of YouTube, in honor of IUP music professor and track and field coach Ed Fry. The arena portion of Kovalchick Complex is named after Fry in honor of Hurley's gift. The Ed Fry Arena will be home to the IUP men's and women's basketball teams and the IUP women's volleyball team, a wide variety of concerts, family shows, trade shows, and much more.

The complex is named in honor of the Kovalchick family of Indiana, Pa., who donated $2 million for the facility's construction.

The facility houses the following:

5,000-seat Ed Fry Arena
630-seat Toretti Auditorium
17,000 square feet of conference space, divided into nine rooms
6,000-square-foot corporate training and executive conference center
The ideal venue for concerts, family shows, sporting events, conferences, conventions, trade shows, corporate seminars, and much more, Kovalchick Complex is projected to have a $22-million economic impact on the region during construction and an annual economic impact of $12.5 million in each year of operation.

While owned by Indiana University of Pennsylvania (IUP),IUPselected Pinnacle Venue Services as the facility management and marketing firm for the Kovalchick Complex. Pinnacle Venue Services, with offices in Virginia Beach,Va. and San Antonio,Tex.,provides public assembly venue owners and operators with customized services that address the specific needs of their entertainment, sports, performing arts, conference and expo, civic, and university facilities. Founded in November 2014, Pinnacle partners with venue owners and operators to be more profitable, more efficient, more customer and client friendly, and seeks to reduce risk by creating an operating environment that is safe and secure.

Find more information on the Kovalchick Convention and Athletic Complex main website.