Student Awards in Journalism and Public Relations
Journalism and Public Relations major wins IUP Women's Leadership Award
Journalism and public relations/English major Kelsey Gross was one of three seniors to win the IUP Women's Leadership Award in April 2012.
Bonfiglio Wins People's Choice Award in International Photo Contest
Brenna Bonfiglio, a senior journalism and public relations major at IUP, won the People's Choice Award in the International Photo Contest in October 2011.
There were 30 photos on display in the Crimson Event Center. As part of International Education Week, students, faculty, staff, and Indiana County community members were encouraged to vote on the international photos.
Bonfiglio received first place for two photos taken while traveling with Semester at Sea to Spain and Italy.
The selected photos will be on display in the Commonplace Coffeehouse through February 2012.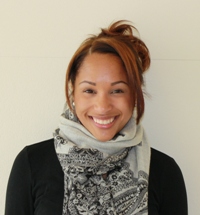 Journalism and Public Relations major Saysha Cabodevilla received the Chacivity Award at the conclusion of the spring 2011 semester. The fall 2010 and spring 2011 awardees were recognized at the Chacivity Award and Volunteer Recognition Reception on April 20, 2011.
The Chacivity Award was created in 2004-05. Its name is composed from "character, civility, and integrity." This award is designed to recognize students who exhibit behavior(s) that are uplifting to the Indiana University of Pennsylvania community by displaying courage, civility, leadership, integrity, and initiative.
To date, 154 students have received the award.
See the complete list of winners.
2011 Library Video Contest Winners
IUP Libraries invited students to do a film to let us know what they think about the library. The following winners are journalism majors:
First Prize:
Jessica Moretti, Nicole Bolden, Emily Kustanbauter
Second Prize:
Like a Good Tutor, the Library's There!
By Brandon Oakes, Gary Beltz, Laura Sproull
Honorable Mention:
By Tiffany Fasig, Kelly Dumrauf, Chelsea Hess Moore, Aysa Alwood, Dara Fennell, Calvin Baker
Honorable Mention:
By Mike Wilson, Brian Barnes, Stephen Hall, Vaughn Johnson
See the complete list of winners.
Top statewide press award goes to two IUP Journalism Department Students
The Pennsylvania Newspaper Association announced Feb. 21 that it will award its top collegiate prize for investigative reporting to two IUP Journalism Department students.
The winners of the 2011 college Keystone Press Award for Public Service/Enterpriseseniors Megan Guza, of Bentleyville, and Andrew Wojcik, of Altoonawrote a story about former IUP President Tony Atwater's personal spending at taxpayer expense. Their reporting was based on a Pennsylvania Right to Know L request that prompted the university to release 2,686 pages of documents chronicling Atwater's spending over five years.
The story appeared April 23, 2010, in the online newspaper the HawkEye as part of the Civic Project, a community-focused watchdog-journalism initiative rooted in News Reporting classes taught by IUP Journalism professor David Loomis, PhD The winning entry was one of a dozen 2010 Civic Project stories submitted to contest judges.
On June 9, 2010, Atwater announced that he would leave his position by the end of the month.
The HawkEye story generated considerable reader comment and media interest. For example, KDKA-AM, the CBS radio network affiliate in Pittsburgh, devoted its June 17 morning talk show to the story and credited Guza's and Wojcik's reporting.
Their editor, Professor Loomis, praised the reporters' work.
"To report the story, Megan and Andrew had to plow through thousands of pages of expense reports," Loomis said on February 28. "To write the story, they had to make sense of all the numbers and make it understandable to readers. The readers appreciated it, and the Keystone judges did, too, apparently."
The PNA, a trade organization serving the state's newspaper industry, will award its annual Keystone prizes at a luncheon in Hershey on March 16.
For more information, contact Professor Loomis at doloomis@iup.edu or phone (724) 357-4411.
SPJ-sponsored Radio Show Wins Statewide Broadcast Award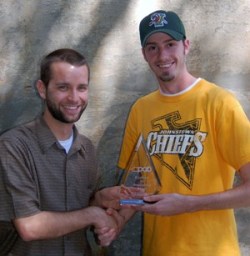 The Pennsylvania Association of Broadcasters has honored for excellence a student-produced news program aired on WIUP-FM (90.1).
Global Alert, a live, hour-long Sunday-morning show sponsored by the Indiana University of Pennsylvania chapter of the Society of Professional Journalists, won the association's Outstanding Radio Public Affairs Program award in its 2010 Excellence in Broadcasting Competition. The Hummelstown-based association announced the award in a March 24, 2010, news release.
At left, Global Alert producer Mike Wilson hands off the PAB award to IUP Communications Media professor Zachary Stiegler, PhD, faculty adviser to WIUP-FM, Davis Hall, May 7, 2010. Photo by David Loomis.