"No Children Allowed" by Carley Lee-Lampshire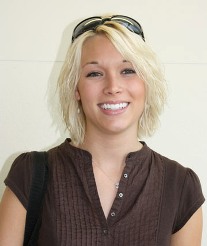 Their half-toothed grins fill many people's lives with happiness, but to Carley Lee-Lampshire, children are nothing more than a necessary evil.
A senior studying journalism at Indiana University of Pennsylvania, Lee-Lampshire looks back on her summers spent at the beach with fondness. This fondness is lost when she recalls all the screaming children.
Jolly Rodger Amusement Park, with its water rides and coasters, tempts tourists from their hotel rooms in Ocean City, MD. Upon entering, guests are greeted by Choo-Choo trains, cotton candy machines producing puffs of purple and pink sugar clouds, and Lee-Lampshire.
"Kids ruin this place," she says.
Grumbling behind any number of stands, from ice cream to funnel cake booths, Lee-Lampshire bitterly waits on parents and their "spawn."
Luck afforded Lee-Lampshire the opportunity to live in OC, where she met Stef Broetsky. Broetsky's family owns the Jolly Rodger Park on 32nd Street. Every year, high school would close its doors to summer and Broetsky would invite Lee-Lampshire down to live and work with her.
"Who would say no to living at the beach with your best friend?" asks Lee-Lampshire.
For three straight summers, Lee-Lampshire joined Broetsky at the beach. She described the wave pool where water would gently sway even overweight parents back and forth while they slept on their giant inflatable beds. Towels drenched the pavement in bright colors, depicting beach scenes. The clouds overhead were smothered by huge green tubes filled with fast-paced water and visitors looking for a thrill.
Lee-Lampshire's least favorite ride can be found deep inside the park. Customers climb into a harness and are pulled back until they are off the ground at an angle of at least 150 feet. The harness is released and the riders are swung into the air a couple of times until their momentum is lost.
Parents usually succumb to their kids' tantrums and allow them to climb into a harness that often leads to a pile of vomit.
"Even from the front of the park I could hear those brats scream," Lee-Lampshire says. "They always ask to get off, but it is always too late and the shouting always gives me a headache."
According to Lee-Lampshire, families visit Jolly Rodger in hopes of an enjoyable day, but you would be hard-pressed to find a family leaving on a happy note. She says the environment is filled with stuffed animals, popular gadgets and sugary delights.
It is too much allure when you consider that kids only have one mind set: gimme-gimme-gimme.
"The rides aren't enough," Lee-Lampshire says. "Then they want candy or to play a game. I watch parents empty their wallets and their stores of patience."
According to Lee-Lampshire, it only gets worse if you are an employee. The prices are like any other amusement park-ridiculously expensive. When a family has ridden all the rides and finds itself starving, children exhausted, all it takes is an overpriced cheeseburger to set them off.
"The kids complain all over my counter until they get what they want. The parents, needing some control over their wallet, will lash out at me over the price of a hot dog," says Lee-Lampshire.
For Lee-Lampshire, however it's all in a day's work at the Jolly Rodger.
Lee-Lamphire takes off her uniform around 11 p.m. and jumps on her candy-apple red Moped with Broetsky. They are heading back to Broetsky's condo to get ready for a night on the boardwalk. Lee-Lampshire couldn't be more excited to join crowds in a place where teenagers swarm and nighttime means no children are allowed.
"I may leave every summer loathing the prospect of babysitting," says Lee-Lampshire, "but the beach is worth it. Although it would be nice if they banned kids from there, too."
On her way out Lee-Lampshire runs into a little girl crying next to a game operated by her friend, Samad. She stops the Moped to chat until Samad has to turn around and address a new customer. Lee-Lampshire watches as the toddler wipe boogers across her face.
The scooter's engine comes alive and moments before Lee-Lampshire pulls out, she grabs a small bear from Samad's pile of goodies and hands it to the booger-faced little girl. In awe of Lee-Lampshire's bravery, the girl begins to edge closer, arms open and ready for hugs. Off the clock, Lee-Lampshire rolls her eyes at the gesture and quickly drives off toward the park's exit sign.