"IUP's Loomis Brings Wealth of Energy, Experience to Journalism Department" by Mike Wilson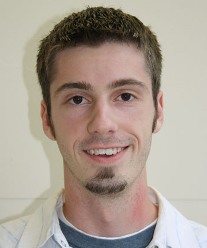 "I went wild at college," says David Orison Loomis. "I flunked out at Indiana University after three semesters."
Today, at age 62, Loomis is a tenured professor at Indiana University of Pennsylvania.
Loomis recounts being kicked out of Indiana University in Bloomington, Ind., for what he calls academic and social reasons. In 1967, he joined the Virginia National Guard and spent the next six years "playing soldier."
The irony of Loomis' situation was that he also spent time protesting the Vietnam War while he was in the National Guard.
"I would spend some weekends protesting the war," Loomis says, "and then other weekends fighting protesters."
Loomis said the National Guard straightened him out and put him on the right track. But his experience working in a plumbing supply store in Arlington, Va., made a lasting impression on him.
An old man with aged, cracked hands worked at the store. Working with him motivated Loomis to seek a different career path. He didn't want to end up like the man in the shop, working for a plumbing supply company for the rest of his life. He followed his father's path and became a news reporter.
His first job was at the Richmond Times Dispatch, or "the Times Disgrace" as Loomis called it during his stay. He wrote editorials for only a year before the paper's conservatism became too much for Loomis.
After leaving Richmond, he worked for the Winchester Star in Winchester, Va., for five and a half years as an editorial editor.
"That was the most fun I ever had at a newspaper job," Loomis says.
In Winchester, a lot of his work went into encouraging community members to talk to each other about controversial issues. Loomis said it was a community that already loved talking to itself, which made his job easier and more enjoyable.
Loomis then spent five years at the Norfolk (Va.) Pilot while in Nags Head, N.C., where he says the news was great.
"It was filled with destruction, hurricanes, ship wrecks, and all of that was without the politics," Loomis recalls.
His stint with the Pilot would be his final job in the newspaper business.
"The newspaper started to go south on me," says Loomis. "I got so angry that I quit. It was a dumb thing to do."
Without a job, Loomis' plan was to go back to school, earn a master's degree, and start over again. He entered graduate school at the University of North Carolina - Chapel Hill for journalism and mass communications. The program offered a full-ride for a doctorate program, so Loomis took it. He soon discovered that his career options were now limited.
"Newspapers don't want Ph.D.'s," Loomis says.
Four degrees now hang on the wall of his fourth floor office in Davis Hall on IUP's campus: one from his high school, one from his undergraduate studies at George Washington University, and the master's and doctorate certificates from UNC. A map of his hometown, Washington, D.C., hangs above his desk. A gray bookcase sits in the corner with two of the three shelves stacked with old newspapers, all featuring his byline.
In the IUP journalism department, Loomis has found his niche.
"He's a great resource," says Michele Papakie, one of Loomis' journalism faculty colleagues. "Any time I have an idea for something, he's all for it."
Loomis is the department's primary news reporting professor. Papakie is one of the department's public relations professor. Despite the friction that often develops between these two fields, the two professors never let that come between them.
"I really enjoy collaborating with him," Papakie says.
During his news reporting career, Loomis felt differently about his public relations counterparts.
"These were prostitutes," says Loomis, "but they'd give you something to write."
Now, he's changed.
"I don't think there's any disrespect there," Loomis says. "In fact, it's the opposite."
"We each play a critical role," says Papakie. "I like how the department doesn't force students into tracks."
After working with hard-working news reporters from Washington, D.C., and learning the trade from his father, Loomis admits he needed to adapt to lightening the work load for his students.
"I thought that's just the way teaching journalism should be," Loomis says. "I bent. I'm not sure it's for the best, but I bent."
Asked what one word best describes his teaching style, Loomis chose "practicum."
While he has decreased his students' work load, he refuses to "teach a book" to students or rely on online quizzes.
"You can show how headlines affect what's happening in the book," Loomis says. "That makes it a bit more real."
Journalism students, too, recognize Loomis' career achievements.
"His civic projects are epic," says Jessica Brown, a junior journalism major enrolled in Loomis' news reporting class.
Every semester for his class on news reporting, Loomis requires each student to write two articles related to civic journalism, a branch of reporting that focuses on topics of public interest or concern.
"It's important to have someone who focuses on old-fashioned journalism," Brown says.
Before coming to IUP, Loomis taught at an exclusive private college in North Carolina. There, everyone had entitlements and, as Loomis notes, nice cars. Indiana, Pa., is a different setting.
"People who go here know they better work hard," Loomis says.
IUP is a school of less-privileged students, which makes it easier, according to Loomis, to work with them.
"These kids need to get ahead and with good reason," Loomis says.
Loomis' hard-working teaching style doesn't mean he doesn't like to have fun in class. Recently, Loomis, who is a skilled guitarist, played one of his original comedic songs on his acoustic guitar for his new reporting class. The students covered this event. The song, "Disconnected," is about an older man talking to a young girl on the internet. Loomis assured his students the song was not based on personal experience.
"He doesn't seem like one of those professors who shows his personal life," says Brown. "It was nice to see that."
Outside of teaching, Loomis remains involved in news reporting. He is the faculty advisor for the IUP chapter of the Society of Professional Journalists. This gives him a chance to help students with reporting on the kinds of issues he so loved during his career.
Acknowledging that he hasn't worked at any one place for more than six years, Loomis says one of the things that gets his motor going everyday is the students' drives to learn his trade. And he wants to make sure his students can recognize the good stuff and avoid the bad.
Now considering himself an "egg head," Loomis likes the job security that teaching has afforded him.
"I don't want to be jumping around at my age," Loomis says. "I'm not going anywhere now."