The Work Number is an automated service that quickly and securely provides instant employment and income verifications when applying for a loan, buying a car, leasing an apartment, qualifying for public assistance, or similar instances.
Pennsylvania's State System of Higher Education securely transmits employment and income data to The Work Number on a regular cycle so the information remains current. The service is available 24 hours/day, 7 days/week. There is no more need to provide paper documentation, such as pay stubs, to lenders and other service providers.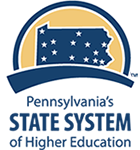 What Do I Need to Do?
The below steps are available in printable instructions.
For General Verification of Employment Status and Dates
Provide the information listed below to the lender or public assistance agency.
The Work Number access methods:
The PASSHE Employer code: 15972
Your Social Security number
For Verification of Salary Information
Follow the steps below to generate a "salary key." A salary key is a unique 8-16 digit number which allows verifiers one-time access to your income data. A salary key can also be requested by calling the Work Number at 1-800-367-2884 (TTY: 1-800-424-0253).
Visit the website, The Work Number employees page.

Click the red Log In button

Click the hyperlink LOG IN in the pop-up window

In the Enter your Employer Name or Code field, enter the PASSHE Employer Code, 15972, and click the red Log In button.

Click the hyperlink, I want to provide proof of employment AND income.

In the Enter your UserID to log in field, enter your Social Security number (no spaces/hyphens).

Enter your PIN# (last four digits of your SSN plus your year of birth)

Complete personal information fields (only completed on initial entry)

Reset your PIN. The PIN should be 8-16 characters and/or numbers. (only completed on initial entry)

Enter your email address (only completed on initial entry)

Setup security questions (only completed on initial entry)

Click the blue + New Salary Key button

Provide the salary key to the person seeking your proof of income and direct him/her to www.theworknumber.com to complete the verification process.
For addressing third-party requests for information concerning employees and students (not through the Work Number)
At no time should university personnel accept a warrant or subpoena or make the decision to share information without following these directions.